Hyundai Germany plants a tree for every IONIQ 5 sold. A new near-natural mixed forest is to be created on a designated clear-cut area in North Rhine-Westphalia, which will be deprived of any economic use for 99 years and can grow just as nature dictates.
No, Hyundai's reforestation programme has nothing to do with romance, and there are no miracle trees or even electric cars growing in the IONIQ forest. And yes, it is not a revolution that is taking place, nor is it a fast-acting "medicine" for overcoming the climate crisis. But it is a symbol and a good idea.
Trees are among the largest carbon stores there are. They actively extract the GHG gas from the air and store the carbon in the wood; in return, they release the oxygen of the CO2 molecule into the environment. The decisive factor is growth, the increase of wood on the tree. As long as it grows, and that is until it dies, it stores a good ten kg of CO2 a year. One should also not forget that the roots hold the soil in place and thus contribute to the "bunkering" of carbon contained in the soil. Furthermore, a species-rich forest is resistant to pests such as the bark beetle, a guarantor of biodiversity, a water reservoir and a temperature regulator. Finally, it is good for the human soul.
In a way, Hyundai is turning into a "climate benefactor" over time. Not only does the IONIQ 5 drive with zero local emissions, its interior materials are also becoming increasingly climate-friendly. The floor mats, for example, are made from plastic waste, so-called "ghost nets", which are salvaged from the sea and then processed into a textile eco-material and ultimately "end up" as a – recyclable material – as a foot pad in the car.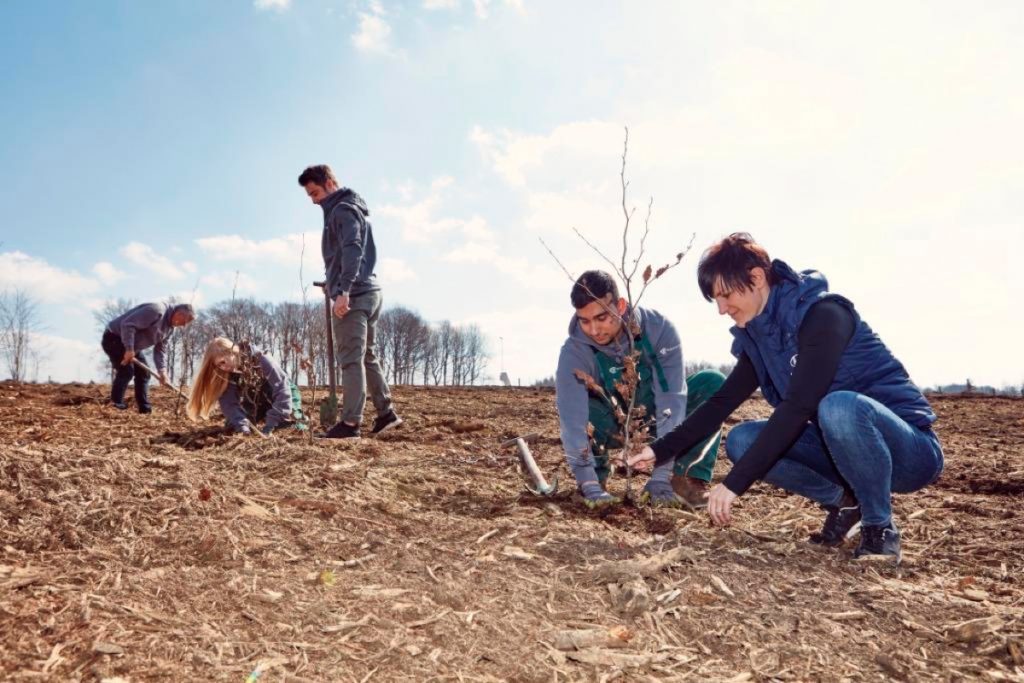 Hyundai partners with the commercial climate initiative PLANT-MY-TREE® in the forest project. This offers companies the opportunity to improve their carbon footprint by adopting trees. For a fee, areas purchased by PLANT-MY-TREE are reforested and removed from deforestation or forestry use for at least 99 years. This reforestation is based on the latest findings of forestry science and provides space for biodiversity: oaks, larches, beeches, Douglas firs and pines determine the mixed forest.
Every buyer of an IONIQ 5 receives his or her individual "sponsor tree" and, in addition to the keys for the vehicle, a certificate showing the location of the forest in question. A QR code takes buyers to a microsite that documents the progress of the planting as well as other interesting topics related to the forest, nature conservation and Hyundai's commitment.
Source: PM Hyundai from 30.3.2022
Text: Werner Köstle
Images: Hyundai