ADAC SE
Corporate Communications
Consumption-conscious: e-bikes as a year-round mobility alternative
Careful: Accelerate and brake with caution
Prepared: Keep the battery warm and dress warmly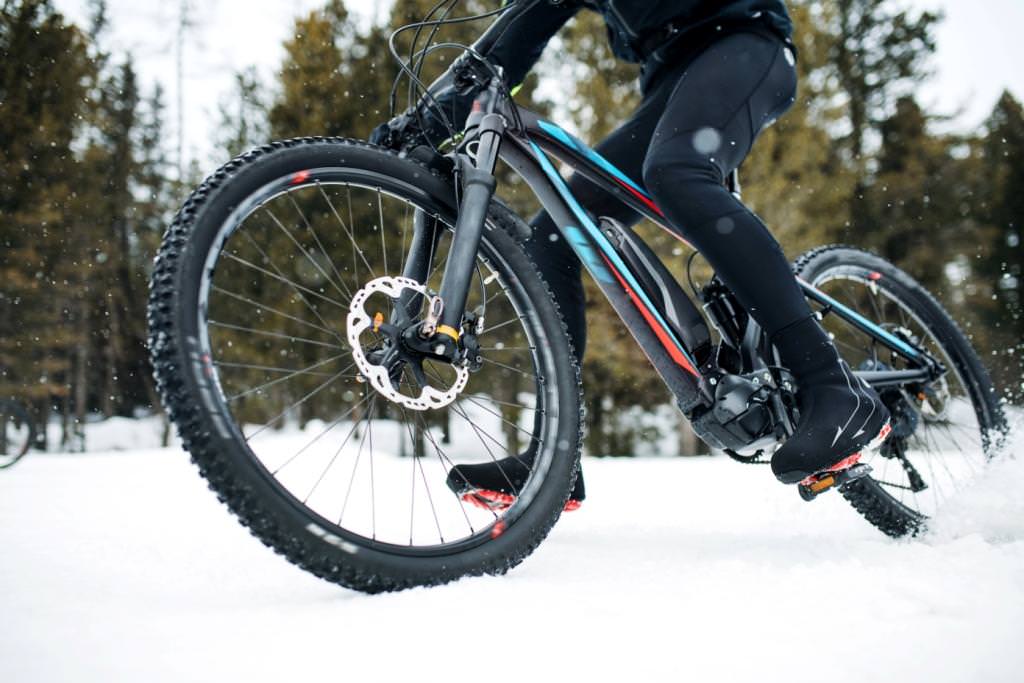 (ADAC SE) E-bikes are at the forefront of buyers' minds when it comes to new or additional alternatives for individual mobility. Even in the cold season, the e-bike is suitable for everyday trips. If you behave properly on the road and in handling the material, especially the heart of the e-bike, the battery, then there is no temperature or weather limit to emission-free locomotion.
Winterize or continue riding and if so, how? ADAC e-Ride has these tips for e-bike riders:
What must be considered with the e-bike battery in winter?

Cold temperatures have a negative effect on the performance of the battery. This is because low temperatures delay the chemical reactions and the battery becomes sluggish. If possible, therefore, do not insert the battery into the e-bike until shortly before the ride. Even if the battery is not in use for a short time, remove it and store it at room temperature. During the ride, special insulations that can simply be slipped over the attached battery (so-called tubes for batteries) help. Therefore, you do not have to fear overheating. If the battery is not used for a longer period of time, store it in a cool, dry place with a charge level of about one third, and do not fully charge it until shortly before the ride. Allow the battery to acclimatize before recharging. Never store the battery in a discharged state for a longer period of time.
Are there winter tires for the e-bike?

It doesn't have to be spiked tires, but a tread pattern suitable for winter conditions (keyword: sipe tread) is a basic requirement in winter conditions. Tires with a softer rubber compound also offer advantages in terms of grip and braking, but wear out faster at higher temperatures. Keyword spike tires: These are allowed on bikes or e-bikes, unlike cars. However, they only really offer advantages (compared to winter tires without studs) in icy conditions. On dry ground, the much more expensive parts wear out quickly. Therefore, if only one studded tire is to be used, it belongs on the front wheel because its position defines the direction of travel.
E-bike care in winter: Should you wash?

To ensure that the e-bike gets through the winter reliably, care should be at the top of the agenda in the cold months. Rain, dirt and salt on the roads promote corrosion and can take their toll on a bike. Spray wax protects paint and metal parts, contact spray displaces moisture on electrical connections, such as the contacts of the battery. When caring for your bike, don't forget the chain: it must be cleaned regularly and lubricated with chain spray, for example. In very cold temperatures, do not wash with water, use a damp cloth.
What is the right equipment for cycling in winter?
Keyword: onion principle – instead of a very warm and thick jacket, it is better to use several layers on top of each other. This promotes the removal of sweat and thus keeps you dry and warm. Rain overtrousers are a good choice. So the outfit of the day underneath still looks presentable even after driving through slush.
If you're going to be outdoors for a long time, you can use heat pads to keep sensitive areas close to your body warm, especially your hands and fingers. Such pads can also be placed in spare gloves in your luggage, so that you have a change of warm gloves when you're out and about. It is also helpful to "pre-warm" shoes and gloves before the trip, for example, using such pads. It is also important to properly place reflectors on clothing, as fluorescent material is most effective when worn on moving body parts. Shoe covers, socks, and leg warmers are best because they move up and down with the pedal, increasing visibility on the road.
Absolutely indispensable is a well-fitting bicycle helmet, which should also be equipped with reflectors.
What do I have to watch out for when riding an e-bike in winter?

On cloudy days with long nights in the winter months, you should already drive with lights on during the day, at the latest at dusk. It is also important to drive with foresight and to pay attention to the correct dosage when braking. Keep more distance and never use the front brake alone. Pay particular attention in wet, cold and leafy or muddy conditions. The braking distance is longer on wet surfaces or icy roads, and careless braking can quickly lead to a fall. 
However, even when accelerating and immediately starting the motor support of the e-bike, wetness and foliage on the asphalt show to be at least something to get used to and should be ridden with caution.
The utmost care must be taken with streetcar rails. The steel is slippery as ice when wet, and the deeply notched driving groove can "catch" the front wheel of the bicycle and cause a fall. Tip: Always cross the rails at as obtuse an angle as possible. When swerving, pay special attention to traffic coming from behind.
Fresh road markings, manhole covers and cobblestones are also slippery and slippery. Extreme caution is advised here.
Further tips and useful information from the ADAC for bicycle and e-bike can be found here
Product range
ADAC e-Ride offers a wide selection of high-quality brand-name e-bikes from all categories: from city e-bikes to e-trekking bikes and e-mountain bikes. ADAC members benefit from a price advantage of 100 euros for used e-bikes and save 98 euros on the entry fee for e-bikes on subscription. Once ordered, the e-bikes are delivered to the doorstep of the customer's home anywhere in Germany, completely pre-assembled.
ADAC bicycle insurance offers theft and repair protection modules that can be combined as required. You can choose to insure one bike or e-bike, all bikes and e-bikes belonging to one person, or the entire family fleet.
ADAC bicycle insurance can be applied for at all ADAC offices, online, and by calling 089 558 95 65 40 (Monday through Saturday, 8 a.m. to 8 p.m.). ADAC members receive a 10 percent discount.
About ADAC SE:
ADAC SE, headquartered in Munich, is a stock corporation under European law that offers mobility-oriented services and products for ADAC members, non-members and companies. It consists of 25 subsidiaries and associated companies, including ADAC Versicherung AG, ADAC Finanzdienste GmbH, ADAC Autovermietung GmbH and ADAC Service GmbH. As a growth-oriented market player, ADAC SE is driving digital transformation across all its businesses, focusing on innovation and future-proof technologies. In fiscal year 2021, ADAC SE had around 2900 employees and generated sales of 1.026 billion euros. 
ADAC SE Corporate Communications
Thomas Biersack
T 089 76 76 29 77
thomas.biersack@adac.de
Image: Getty Images