A fair trade raw material for green mobility: The Marathon E-Plus from the German tyre specialist rolls on fair trade rubber – as the first bicycle tyre worldwide.
A sign against ruinous world market prices
Schwalbe is the only tyre manufacturer to have joined Fair Rubber e. V., whose premiums are paid out one hundred percent to the smallholder cooperatives. "As the only organisation working in the rubber sector, Fair Rubber addresses the completely inadequate world market price for rubber. The price has been below production costs for years. Most small farmers cannot possibly sell their rubber at fair prices," reports Frank Bohle, managing partner of Schwalbe. As a fair trade premium, Schwalbe pays an additional 50 euro cents on every kilo of rubber (dry goods), which corresponds to about 45 percent of the world market price.
Social and environmental projects
The amount is paid monthly via Fair Rubber to the smallholder cooperative founded for this purpose not far from the Schwalbe factory on Java in Indonesia. The cooperative itself determines what the money is used for, for example for water and electricity supply, medical care, building materials or for equipping schools and kindergartens.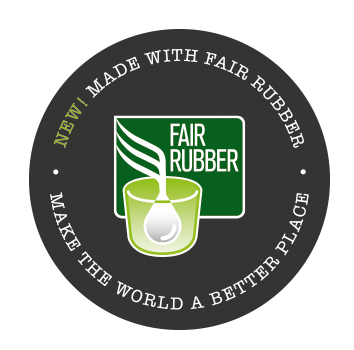 The environment also benefits: Fair Rubber has adopted the environmental standards of the well-known Forest Stewardship Council (FCS) for its catalogue of criteria.
Marathon E-Plus, der spezielle E-Bike-Reifen
Schwalbe launches its Fair Trade commitment with the Marathon E-Plus, whose entire share of natural rubber has been purchased at fair prices since April 2020. The model combines Schwalbe's proven unplattbar technology with specific properties for e-mobility. The motorised bicycle places higher demands on the tyres than a normal bicycle: it has a lot of power, is ridden at higher speeds and is also significantly heavier with the motor and battery – all of which requires special tyres.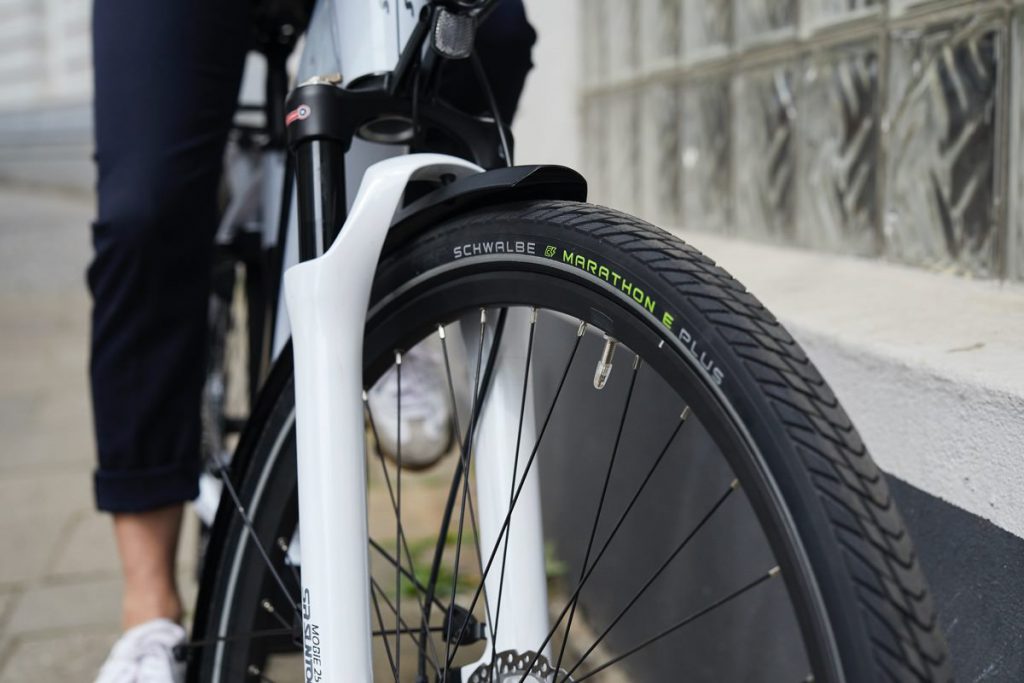 Accordingly, the manufacturer particularly emphasises the characteristics of riding safety, high stability, smooth running and durability. In addition, the Marathon E-Plus is suitable for high loads and is approved for all e-bikes, both for pedelecs up to 25 km/h and for S-pedelecs up to 50 Km/h. The price is 44.90 euros in specialist bicycle shops.
Environmental prize for recycling system
Schwalbe's commitment is not limited to the use of fairly traded raw materials. In 2020, the manufacturer from the Oberbergische Kreis received one of the first German Sustainability Awards Design as a "pioneer". The award honours the closed product cycle and the coherent process design of the recycling system. Since 2015, the tyre manufacturer has recycled more than five million inner tubes and has meanwhile expanded the take-back of old inner tubes to the Netherlands, Belgium and Great Britain, with other countries to follow. Participation in the system is free of charge for all specialist dealers.
"All Schwalbe inner tubes consist of 20 percent recycled old inner tubes. The old inner tubes are completely reused for this purpose without leaving any waste behind!" emphasises Frank Bohle, managing partner of Schwalbe. "As representatives of an industry that offers products for 'green' mobility, we see it as our duty to also act sustainably ourselves. More projects and products will follow!", promises Frank Bohle.