This story is about chocolate, its production, the credible sustainability profile of a company and its transparent communication. But it is also about how it is possible to persistently pursue a fantastic idea against all odds in order to finally implement it successfully on the market. A story of success and courage.
It all started with hand-scooped chocolate. Inspired by paper production, Josef Zotter invented a chocolate that is spread in thin layers on top of each other on a long ribbon. Zotter, who likes to call himself a "different person", coined the term "hand-scooped" – if you Google it, you automatically end up with Zotter chocolates – clever! The success story of the family business from Styria is also media-effective because Josef Zotter failed at his first attempt as an entrepreneur – this is reported openly. It was not until the second attempt – with the production of sustainable chocolate – that the company succeeded in rising and with it the fame that today reaches far beyond the borders of Austria. There, the company is one of the top ten best-known brands and Josef Zotter is also a sought-after interviewee in the German print media. In April, an interview with him appeared in Zeitmagazin. It is not without justifiable pride that the company's press materials report that Zotter is the only Austrian company to be included as a case study on the Harvard University syllabus.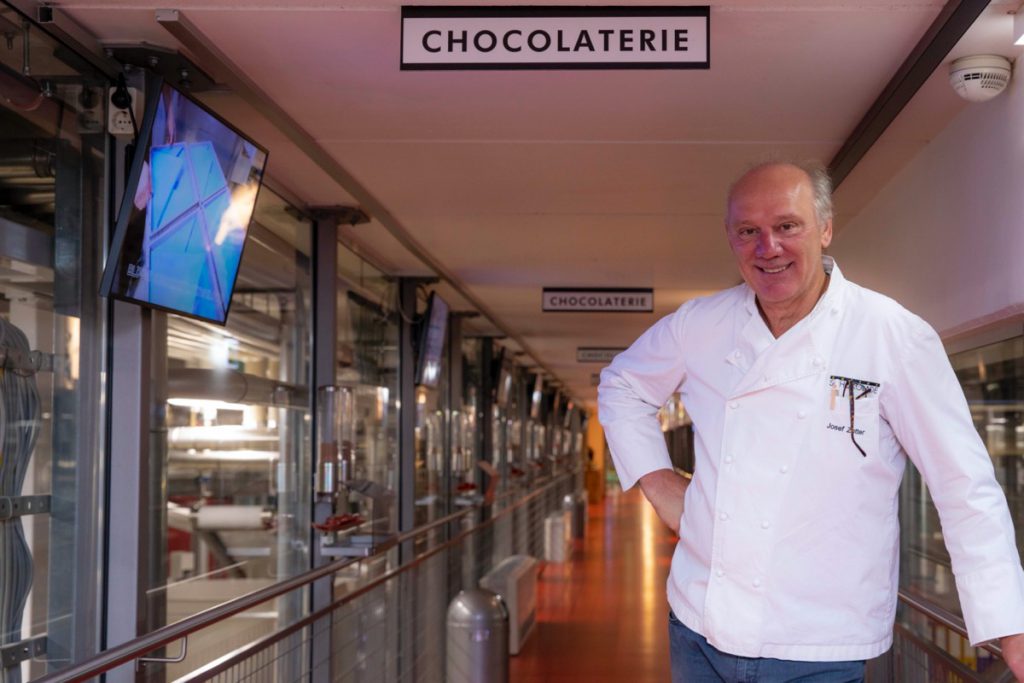 An aura of exclusivity surrounds the filled chocolates with the unusual flavours. If you don't order online, you have to make a pilgrimage to small retailers or organic and natural food shops, where you pay a hefty 3.50 euros for a 70-gram bar. Extrapolated, 100 grams thus cost between five and six euros on average. In return, however, customers receive fair trade, organic, bean-to-bar and the finest delights – all of which are closely associated with Zotter chocolates.
You can hardly get more creative
According to Julia Zotter, the founder's daughter, the first "weird" chocolate her father invented was one with hemp and mocha. It was followed by: algae-caramel-pineapple, beer chocolate, cola & popcorn, whiskey & bacon, fish chocolate, which is especially popular in Asia. In the very long list of awards that Zotter has won since 2004, only one should be mentioned – the 2013 Kennedy Award in London as "Most Creative Chocolate Company".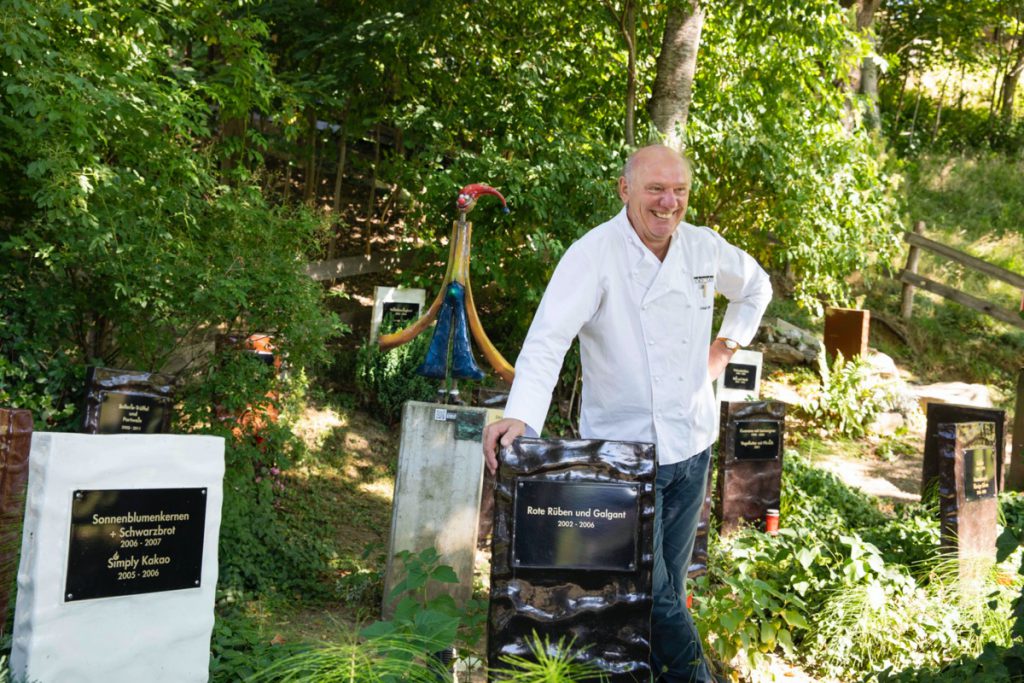 The creative ideas also include the innovative information and education concept in the form of a "chocolate shop theatre", in which visitors learn everything about the production of the more than 500 delicacies in Zotter's range. From the cultivation of the ingredients to their processing, which can be experienced live in the glass production.
What sets Zotter apart from other chocolate manufacturers is, on the one hand, the "personality show" of Josef Zotter himself, who skilfully puts himself in the limelight for the sake of a good cause and is thus also questioned on political issues such as the refugee crisis, and, on the other hand, the passion with which "fair trade" and sustainable production are propagated and implemented. The Zotter family, which had already converted its chocolate production to fair trade in 2004, set an example in 2018 when it demonstratively renounced the Fairtrade seal and introduced its own Fairtrade label for its chocolates.
100 % Fair Trade
A unique selling point of Austria-Chocolaterie is that not only do all raw ingredients come from organic cultivation, but that all production steps take place in-house after purchasing. This concept is called "bean-to-bar". Every sub-process – from cleaning the cocoa beans, roasting, grinding and rolling to conching, i.e. refining the fine cocoa mass, takes place under the aegis of Zotter. If you want to know more about it, you can "get a taste" of the production directly on the website (see link below). Fresh chocolate is produced every day at the headquarters in Riegersburg – but not always by hand. In the meantime, robots are also taking over sub-processes and supporting the praline production with their gripper arms.
Zotter also sets itself apart from its competitors by paying its suppliers – mostly small, farmer-owned cooperatives – fairly. Since 1 October, a minimum price for Fairtrade-certified cocoa of 2,400 dollars per tonne has applied. However, no farmer can live on that. Zotter says it pays three times more than the market price. Josef and his daughter Julia regularly visit their local partners, because "Fair Trade means careful harvest management, fermentation and sorting out of the cocoa beans".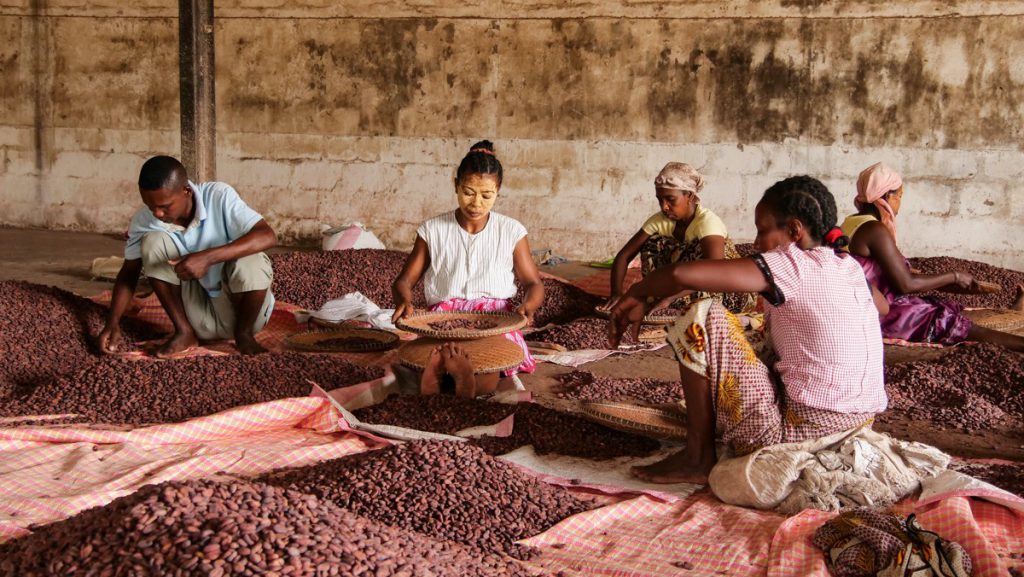 The cocoa, for example, comes from nature reserves in the Dominican Republic or from the middle of the rainforest in Panama and Peru or from the Mayas in Belize and Guatemala. Fair trade at Zotter also means striving for sustainable supply chains.
By sailing ship to Europe
Even if it is only very small quantities of cocoa that Zotter has transported by sailing ship, it is more than a PR coup, namely the exploration of an unusual, sustainable transport option. According to press spokeswoman Susanne Luef, it is hoped that this type of emission-free transport can be further expanded in the future. A crowdfunding project is currently underway for a sailing ship. There are currently no concrete dates for when it can set sail.
The sailing ship "Avontuur" of the operator Timbercoast has so far transported four shipments of about three tonnes of freight each for Zotter.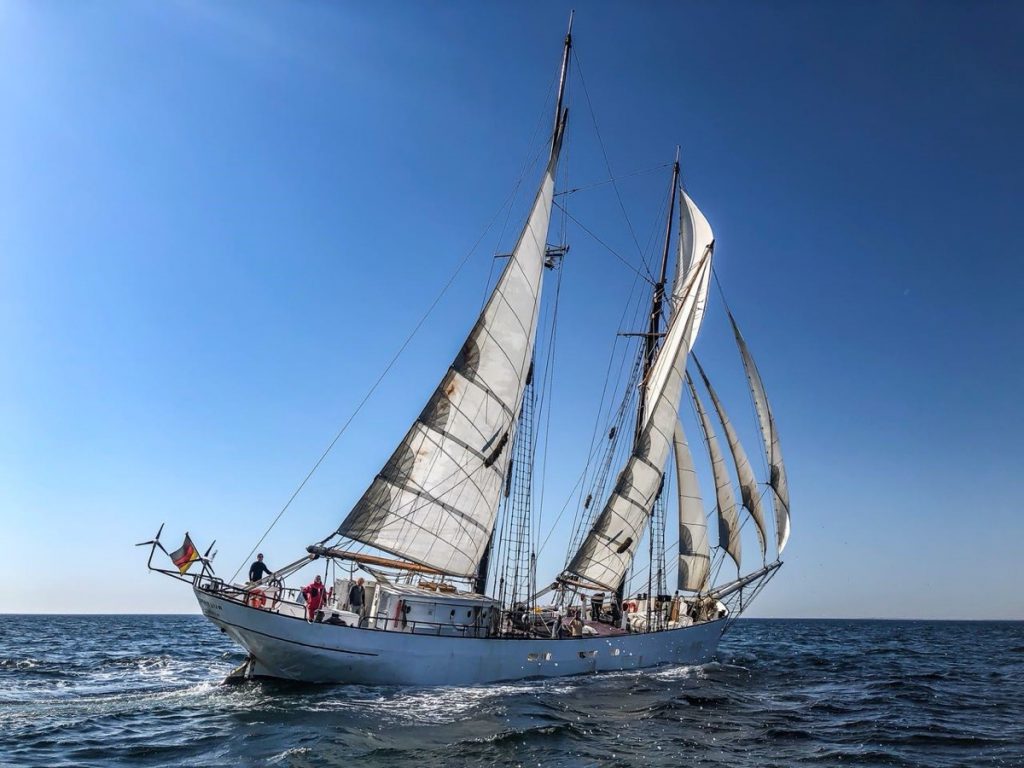 Every sack that arrives in Hamburg is still unloaded by hand – Julia Zotter herself helped with the last delivery. You have to bring a little leisure with you, because the sailor is at sea for around nine months. The Maya Cacao is processed for the Labooko chocolate variety and makes the bar of "70% Nicaragua Sail Shipped Cocoa" one with a low carbon footprint.
"Look me in the eye, little calf": Josef Zotter, the model farmer
Josef Zotter is not only a chocolatier, but also a passionate organic farmer. For ten years now, next to the glass world of experience, the "Chocolate Shop Theatre" – an attraction for around 200,000 visitors per year – there has been the "Edible Animal Garden". Here there is space for old native breeds of farm animals, which can grow up here in a species-appropriate way before they end up on our plates. Regional fruit and vegetables are also grown on the 80 hectares of organic farmland. 27 hectares are open to visitors. Not everyone may look the future veal cutlet in the eye, but the Zotter family is keen to make meat eaters aware that steak and cutlets had a good life here before.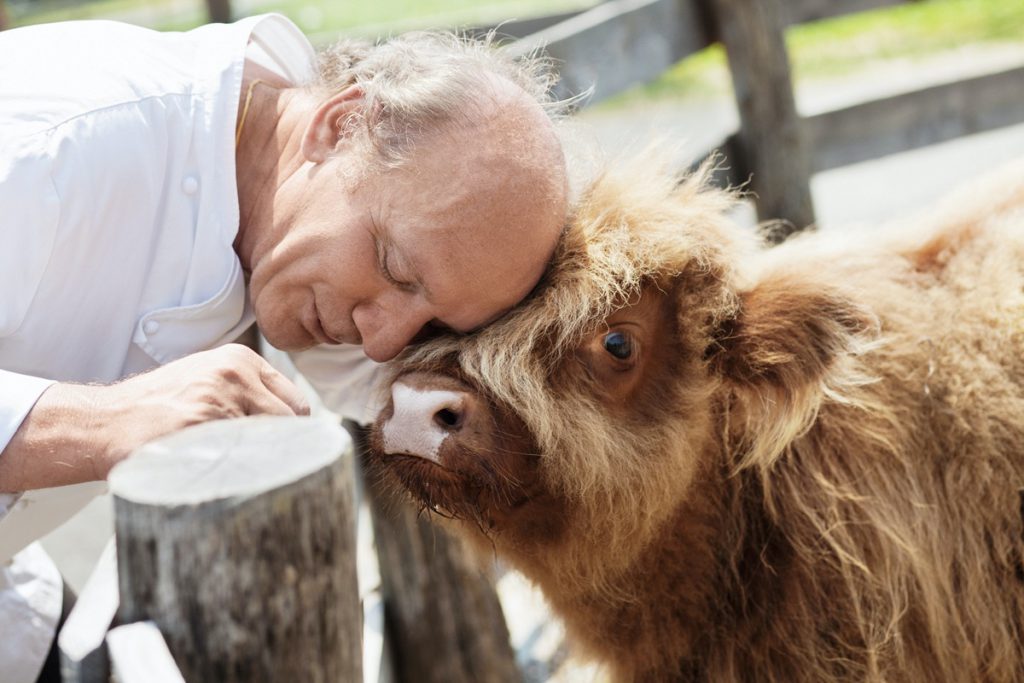 Eco in all situations
Environmental protection is a priority in all areas – in chocolate production as well as in organic farming with the restaurant. Zotter itself has been driving an electric car for a long time, and the Edible Zoo is self-sufficient in energy. The electricity comes from a photovoltaic system, the drinking water from their own source. There is an electric charging station for electric staff vehicles and sustainability is also a priority in the packaging of the chocolates. Cocoa shells do not end up in the rubbish, but are burned or used as fertiliser. The Zotter manufactory is the model company in terms of sustainability par excellence. It is absolutely justified that it receives much praise and honour for this.
The only question that remains is: Is the consistent orientation towards sustainable production worthwhile, is the business also economically successful? Questions that can be confidently answered in the affirmative, even if neither turnover figures nor profits are published. At least we can learn that turnover increased even in the Corona crisis year, although there were no visitors to the "chocolate theatre" for a long time due to the lockdown. What is known is that about 200 tonnes of cocoa beans and 150 tonnes of cocoa butter are processed into 646 tonnes of chocolate per year. So anyone who occasionally nibbles on 70 grams can at least be sure that all the ingredients are of high quality and "organic" and that the worldwide suppliers can make a living from their work.
Text: Susanne Frank
Pictures: Zotter; picture 2 and 3: Lutz Dürichen
Read also the "Stromern mit" portrait of Josef Zotter at
Episode 3: Electricity with Josef Zotter