Episode 1
Often idyllic ideas shrink almost beyond recognition on closer inspection, but sometimes they stand up to critical scrutiny and turn out to be reality. But then usually in a contemporary, modern context, and not as a static, beautiful pre-industrial anachronism. The horned cow with faithful looking eyes, happy in the midst of an alpine meadow flower flora, in front of the iconic mountain backdrop of the legendary Untersberg massif. Downright classic when it is still flanked by the unmistakable mountain farmer who visibly cares for his animal and forms an inseparable team with it. Here I drink milk and eat yoghurt with the best possible conscience! This or similar is how many dairy product suppliers advertise, and one gets the idea that the alpine mountain world must be populated by millions of grazing cattle.
Alpine milk: not a protected designation
In reality, a considerable part of the milk offered today, often at rock-bottom prices, comes from living "production machines" that rarely if ever see pasture. In order for these high-performance creatures to function properly, they are given plenty of concentrated feed and when they are exhausted and no longer deliver as desired after only a few years, their path leads straight to the butcher.
The fact that some marketing fakes are successful is partly due to the fact that the term "alpine milk" is not protected, but merely an advertising term that is not based on reliable criteria such as pasture farming or feeding. For some producers it is sufficient if the barn is located somewhere south of the Danube, other dairies set stricter standards for Alpine milk. This article is about one such dairy whose catchment area extends along the northern Alpine ridge from the Watzmann to the Zugspitze.
There is another way, economically and ecologically
The "Molkerei Berchtesgadener Land", located in Piding between Berchtesgaden and Salzburg, has been consistently committed to sustainability, including economic sustainability, since 1927. As a cooperative association of about 1,800 farms, 600 of which are organic, its economic activities are determined by these same shareholders and are characterised by the fact that the milk is purchased from the farms at fair conditions. This enables them to sell their milk safely and to keep their cows according to species-appropriate principles.
Naturally, there is no genetically modified fodder, no intercontinental milk transport, no use of total herbicides and no soya from overseas. This makes an essential contribution to biodiversity as well as to the conservation of natural resources such as water and energy.

All products from the Berchtesgadener Land dairy are sustainable, in various gradations. About 100 farmers already produce "Demeter quality", i.e. biodynamic according to the strictest organic guidelines. But the milk of the other classes also comes from family farms and is processed under strict criteria. Since 2013, numerous raw materials in the organic range have also been gradually converted to fair quality. The long-term goal is to use all organic & fair raw materials available in the "Naturland Fair" certified Berchtesgadener Land products.
"A fair, above-average milk price for our cooperative farmers is the starting point for a sustainable value chain in dairy farming. We promote animal welfare with exercise premiums and pasture seminars. Resource-conserving milk collection, efficient use of energy during processing with our own energy centre and packaging made from renewable raw materials round off our sustainable commitment, for which we have received the German Sustainability Award 2019.",
says Bernhard Pointner, the managing director of the cooperative.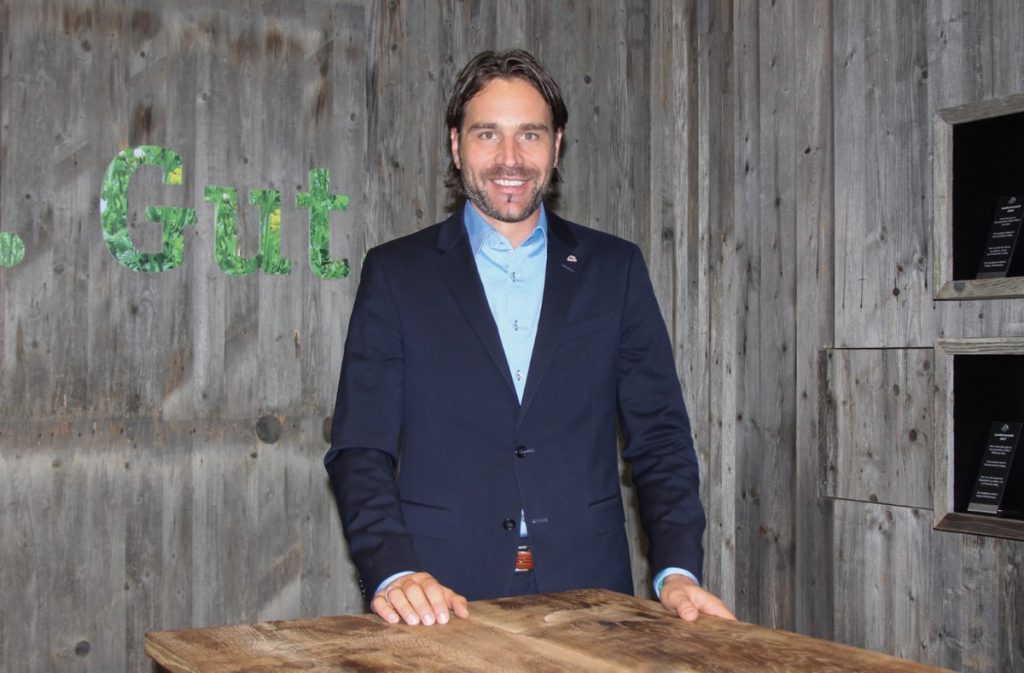 Sustainability as a guiding principle
The principle of extensive agriculture and regional and resource-conserving processing is continued in all areas of the company. Thus, all production steps are subject to this principle, which puts quality before quantity and efficiency before profit maximisation at any price. The same applies to the sales department, which has its own fleet of vehicles. This fleet is continuously modernised by replacing older vehicles with lower-emission and more efficient ones. CO2 emissions are also significantly reduced by using milk trucks that have several tanks, so that the same truck can take milk of different quality – from conventional, Naturland and Demeter producers – and several vehicles do not have to travel the same route. In recent years, these measures have reduced fuel consumption for milk collection by 22 percent.
Resource-efficient work is also carried out in other areas, such as the use of environmentally friendly energy. For this purpose, a separate energy centre with combined heat and power generation was built on the dairy site. For example, its waste heat is used for heating processes in production, for heating buildings and for heating water.
Milchwerke is committed to preserving biodiversity and supports projects to protect insects and healthy soils. For example, they participated in the "Wild and Cultivated" project of the Berchtesgadener Land biosphere region with the aim of preserving and replanting flowering meadows. Since then, species-rich meadows have been harvested and the flower seeds obtained have been used to replant species-rich areas of schools, businesses and municipal areas in the district of BGL.
Farmers use a specially developed seed mixture of 28 grass and herb species to enrich grassland sites. Two bee colonies have been kept on the farm premises since 2016 and are looked after by the trainees, who thus learn a lot about nature conservation and biodiversity in addition to the specialist knowledge in the team.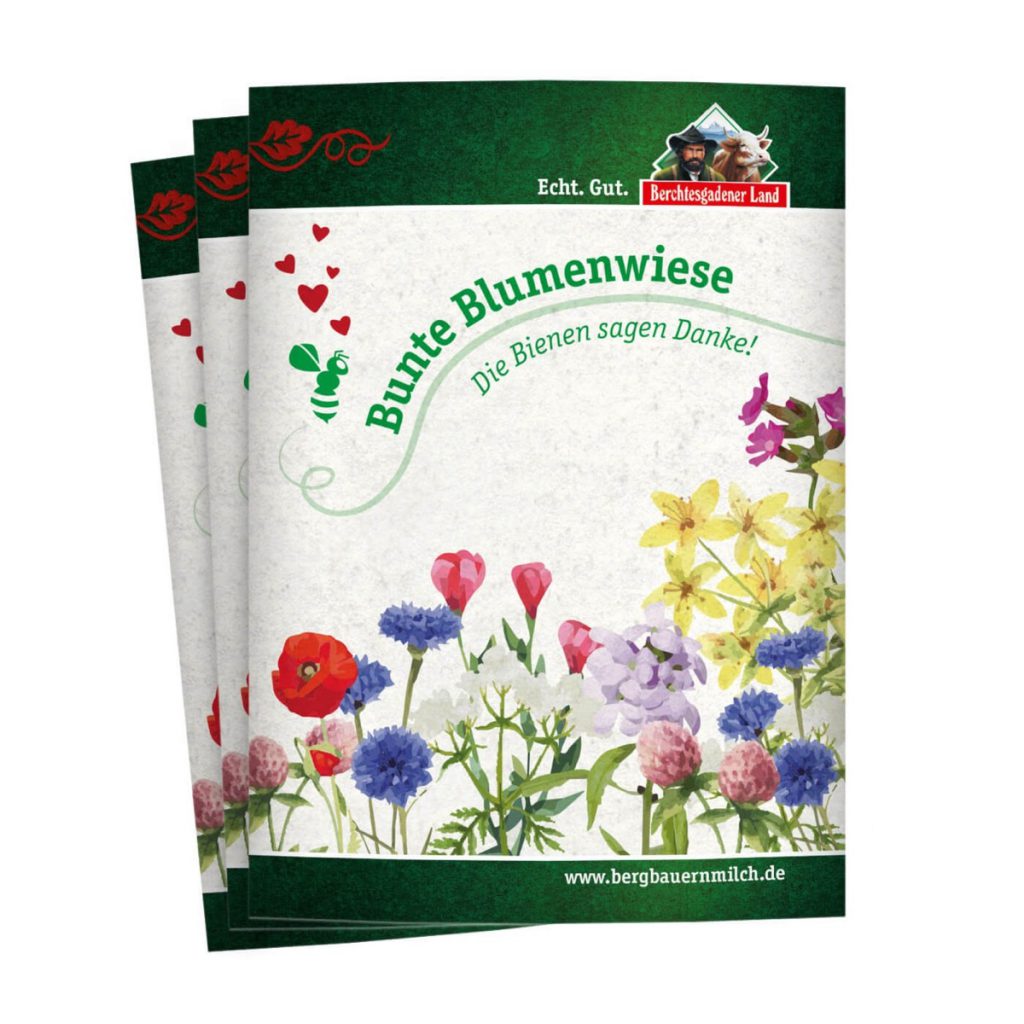 The dairy also takes special care of animal welfare. For example, since 2017, movement premiums have been paid if the cows spend at least 120 days on pasture, can move freely in the free stall or on exercise areas.
Since 2014, a sustainability report has been published annually, which shows the status achieved and sets the targets for the following years. In addition, a dedicated sustainability officer takes care of all environmental issues of the company.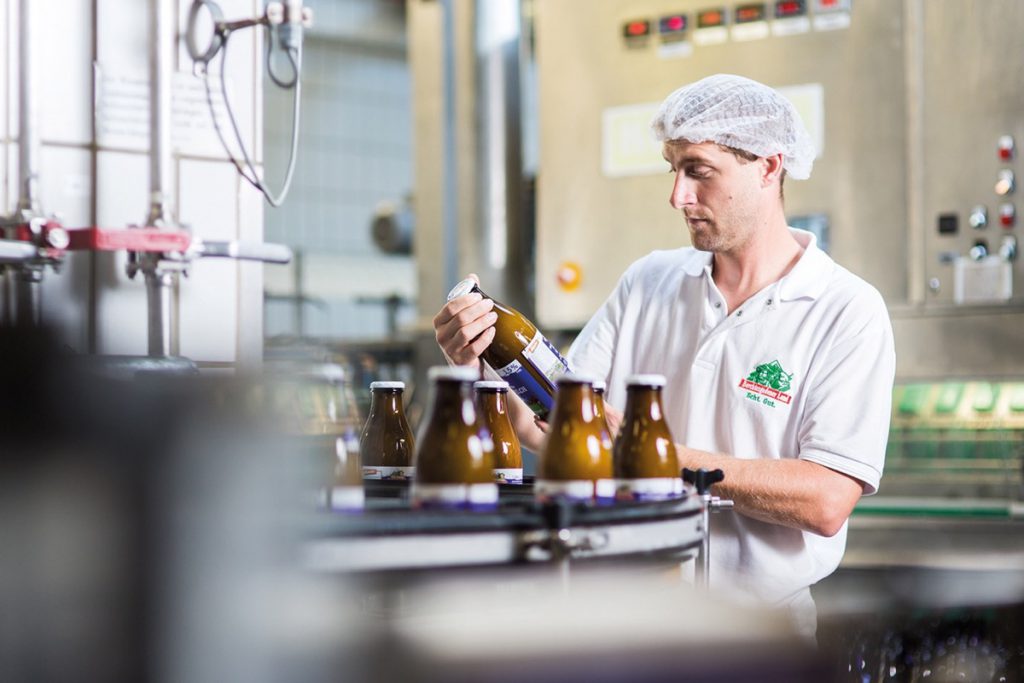 Mobility offers for employees
The more than five hundred employees come from the region and have the opportunity to use bicycles or e-bikes for their commute to work, but also for their leisure time, via the job bike model. With this concept, part of the salary is converted into the use of an asset, in this case a two-wheeler. The monthly leasing instalment is deducted from the gross salary, which thereby decreases somewhat, and with it the salary components that are deducted. The tax advantages allow employees to save 25 to 35 per cent of the purchase price compared to cash purchase. Currently, the dairy has 100 job cyclists, the pedelec share is 88 per cent. The e-bikers even have their own parking space with a charging station. With a planned new multi-storey car park with charging facilities
for e-cars, the dairy is responding to the increasing electromobility among its female employees.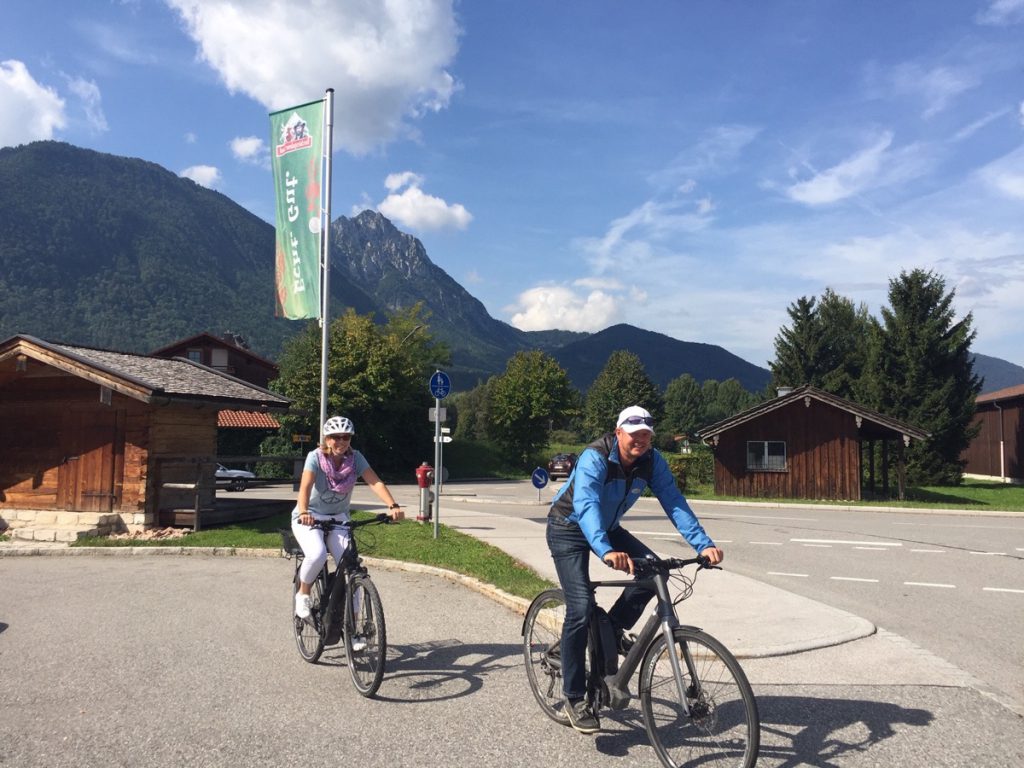 Qualification and motivation
The company also attaches great importance to the ongoing training and qualification of its employees and member farmers. To this end, farmers are offered a variety of courses in the "knowledge workshop". Topics such as biodiversity, humus build-up, stable construction and pasture seminars are part of the educational programme, as are regular courses and working group meetings on the basics of homeopathy, homeopathic healing methods, udder infections or calf and hoof health. In addition, the important exchange among the cooperative members is promoted through these meetings.
The "20 for 2020" goal
One of the dairy's flagships are the cooperative farmers who farm according to the strict Demeter criteria. But Demeter milk is in limited supply. In order to be able to meet the increasing demand, the dairy is actively involved with the Demeter association in converting farms to the highest organic standard. A year ago, the goal of "20 in 2020" was set, i.e. to acquire 20 new Demeter farms in 2020. As an additional incentive, the Demeter surcharge on organic milk was raised by another 0.5 cents to 2 cents/kg milk. All in all, the dairy was able to promise 20 farms willing to convert to organic milk that they would join the cooperative.
This type of extensive agriculture, which follows the guidelines of Rudolf Steiner, the founder of anthroposophy, is qualitatively far above state organic certificates. For example, the producer must farm entirely according to Demeter standards, not only in part. Fifty percent of the fodder used must come from the farm itself, and strict controls are carried out once a year. And the cows wear horns as a matter of course – for several reasons.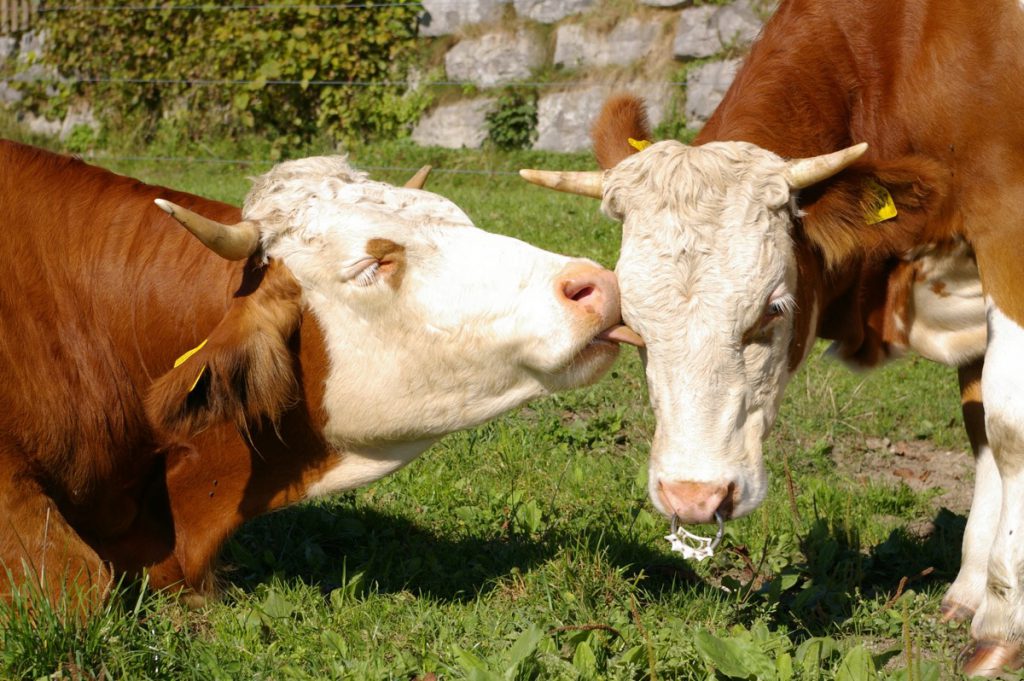 Demeter organic Alpine milk in returnable bottles has been on the market since 1990. It is left as natural as possible, its fat content is at least 3.8% and it is not homogenised. Customers can recognise this by the layer of cream that forms in the neck of the bottle. To ensure that the valuable ingredients of this particularly natural and fresh product remain protected from unwanted light, this Demeter milk is sold exclusively in brown, environmentally friendly returnable bottles.
In the second episode of our report on the Berchtesgadener Land Dairy, we will soon be reporting on the following topics:
Why do cattle from Demeter farms still wear horns?
General: Functions of the horns
Best practice example of the Fuchs family farm
Current developments at dairy farms e.g. support programme "Farmer of the Future
Text: Peter Grett
Pictures 1-6: Milchwerke Berchtesgadener Land
Picture 7: Hermann Fuchs