Electromobility is also making steady progress on the water.
Tugs, scows, excursion boats and, of course, ferries, whether on the Havel, Lake Constance or the Baltic Sea, almost every segment of shipping is becoming electric. Only the giant barges on the world's oceans are not yet ready, with a few timid exceptions.
Now the Spree is also carrying another e-boat, this time in the service of Deutsche Post DHL. From the southern port of Spandau to Berlin's western port, the goods to be transported, up to 250 parcels, are transported for the first time by water at "ecological zero tariff", silently and without emissions.
The ship with a length of 10.5 metres and a width of 2.5 metres is equipped with solar cells on the roof, which would enable it to operate indefinitely in sunshine. In the not entirely unlikely event that the sun does not provide enough energy, there is a battery buffer on board, which alone also provides juice for eight hours of operation.
With the solar ship, Deutsche Post DHL is completing an all-electric motorised supply chain that begins with e-trucks and ends with e-bikes, relieving Berlin's road traffic over the entire water route.
This pilot project, which involves not only Swiss Post but also port logistics provider BEHALA and Solarwaterworld AG as shipbuilders, fits seamlessly into Deutsche Post DHL's chain of sustainability offerings.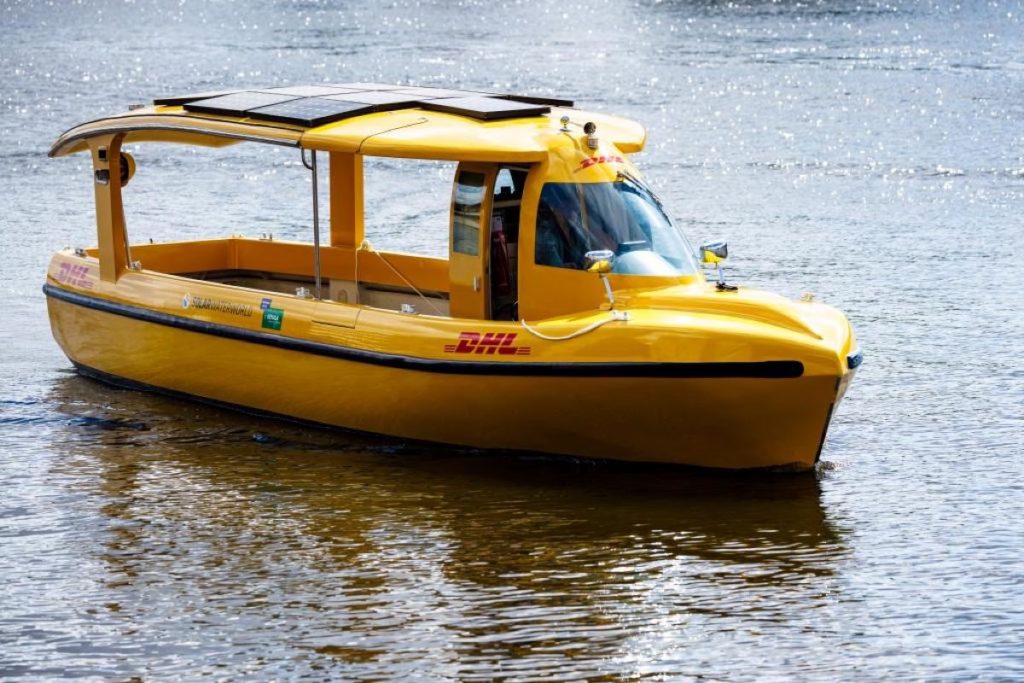 "The solar ship complements this offer as another regional project for the capital and shows what we have been focusing on for a long time: sustainable and climate-friendly logistics. In addition, with the help of the solar ship, we are analysing how we can use transport on water for us in the future," says Thomas Schneider, Chief Production Officer responsible for postal and parcel operations in Germany.
Sven Goerke, head of the Berlin Parcel branch, which is implementing this project on site, adds: "It is a pilot project in which we are once again making a contribution to an emission-free future and testing out in Berlin how we can also shift our logistics from the road to other transport routes."
If the pilot project proves successful, it will probably be expanded or supplemented.
Text: Werner Köstle
Images: Deutsche Post DHL/Jens Schlüter"