The traditional hotel in the Swiss Engadine offers "E-Shuttle & more" in terms of electric mobility. Those who are also looking for relaxation or want to do some sports will get their money's worth at Margna, as will friends of regional cuisine.
The four-star superior hotel in Sils, not far from St. Moritz, tells a story that goes back more than 200 years and is palpable in the architecture. Hardly any of the 60 rooms are the same, some walls are not at an angle. Authenticity is in the foreground. The former patrician house from the 19th century, idyllically situated on the Sils plain between two mountain lakes, offers its guests many opportunities to relax. A hotel garden with ancient trees, three restaurants and a spa with a view of the imposing Engadine mountains invite you to do so. Those who also want to do some sporting activities will find plenty of opportunities to do so. For example, on the hotel's own golf course or during a game of rowing. The nearby mountain lakes also invite you to go sailing and surfing, and when they are frozen over in winter, they are transformed into an event location for large-scale events such as snow polo and white turf.
RENTAL OF E-MOUNTAIN BIKES FOR DEMANDING TOURS
The bike trails in the area offer experiences at every level of difficulty. If you want, you can choose between leisurely or demanding, but also decidedly challenging routes.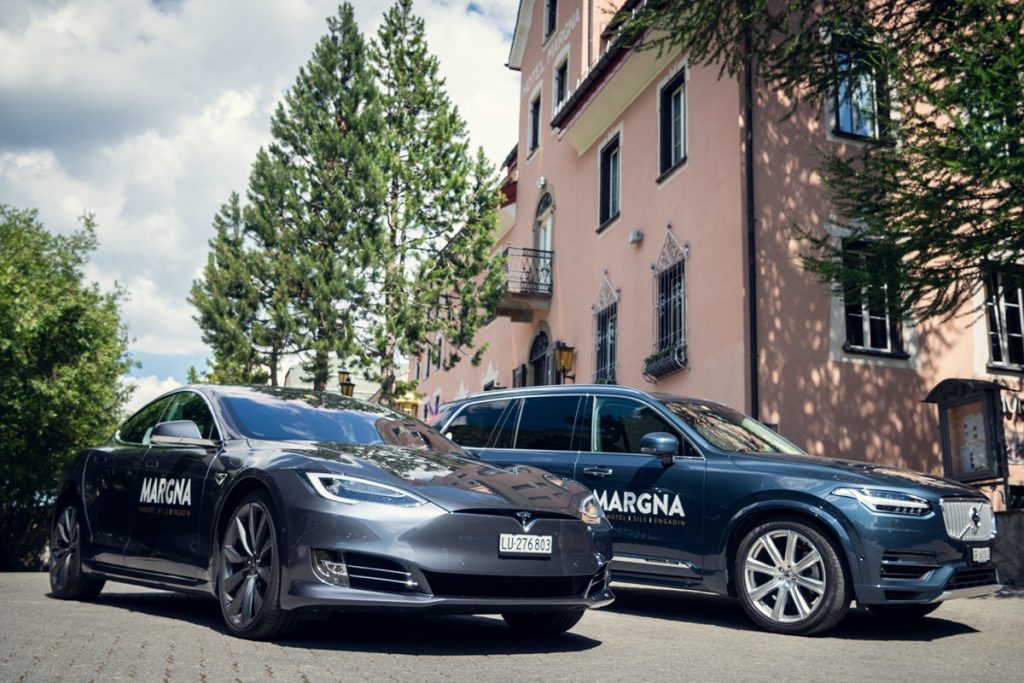 Tours with electric assistance are becoming increasingly popular. At the Parkhotel Margna, guests can rent high-quality e-bikes for a fee.
SHUTTLE SERVICE WITH ELECTRIC AND PLUG-IN VEHICLES
In addition to the electric rental bikes, the destination also offers its guests other eMobility services. For example, even smaller groups with a lot of luggage can be chauffeured comfortably to or from the train station in St. Moritz in a spacious Volvo XC 90 T8 TWIN ENGINE. As this plug-in hybrid can drive around 50 kilometres purely electrically, passengers can fully enjoy the almost silent, relaxing glide because the shuttle distance does not exceed the electric range.
A purely electric Tesla Model S is also used for guest transfers. And those who feel inspired by the great passenger experience and want to try out the noble electric car for themselves can even rent it for 180 Swiss francs a day.
Guests who arrive with their own electric vehicles or "part-time electric vehicles", so-called plug-in hybrids, have two charging stations at their disposal – one at the hotel entrance and one covered. Charging is free of charge for both hotel and restaurant guests.
With its comprehensive eMobility offers, the Parkhotel Margna is also an official partner of the "Grand Tour of Switzerland", one of the world's most attractive tourist routes. It combines the highlights of Switzerland on the most scenic route. It includes 45 top attractions, twelve of which are UNESCO World Heritage Sites, 22 lakes and two biosphere reserves. Two years ago, this route was finally developed into the "E-Grand Tour of Switzerland", the world's first road trip for electric vehicles. A dense network with over 300 charging stations powers the entire route, guaranteeing over 1600 kilometres of driving pleasure that is as comfortable as it is clean.
REGIONALITY AND SEASONALITY
At the Parkhotel Margna, the hotel's sustainability efforts are not limited to the area of mobility. In the choice of food, great importance is attached to regional products. This is reflected in the meat and sausage products from the two quality suppliers Zanetti Poschiavo and Metzgerei Heuberger in St. Moritz.
Especially lovers of traditional Italian specialities such as bresaola, salsiccia, mortadella, pancetta, but also the famous Bündner get their money's worth at the Margna. In addition to homemade delicacies, which are based on the principles of seasonality and regionality and meet the Slow Food criteria, guests are also served a wide variety of Mediterranean dishes in the three restaurants Grillroom, Stüva 1817 and the Enoteca & Osteria Murütsch.