On holiday, many people are open to trying something new and special. That's why more and more hotels are offering their guests e-cars to rent for a relaxed and locally emission-free exploration of the surroundings. Two hoteliers even go one step further and offer brilliant driving fun with an e-rocket: the Porsche Taycan.
Word is gradually spreading among hospitality operators that more and more guests are arriving with their e-cars or plug-in hybrids and expect to find a reliable charging option in the destination of their choice. Some hoteliers are even thinking: once a charger has been installed, why not take the next logical step and purchase one or two electric company vehicles?
Special e-mobile holiday experiences
Perhaps even one that can be rented by guests after prior registration. It would be hard to convey a destination's claim to sustainability and modernity in a more emotional and obvious way. Even before the e-bike boom really took off and many people bought their own pedelec, hotel and campsite operators were already providing their customers with special holiday experiences by renting out electric bikes. Many a person who had previously dismissed the bikes with built-in rear wind as "pensioners' vehicles" then went on an e-trip out of sheer curiosity – and came back "hooked" and with a big grin on their face, in technical jargon: "e-bike smile".
As with pedelecs, Autostromers do not require any major instruction. At least for those who already have experience with automatic transmissions, the handling of an e-car is "watschneinfach", as they say in Austria. But for everyone else, too, an electric car is by no means witchcraft, so that after the first few kilometres they will quickly be familiar with "e-driving". Nevertheless, there are a few differences to "normal" driving. The pleasant silence that sets in above 25 km/h as soon as the "sound generator", prescribed for safety reasons, has finished its annoying spherical whine. Then there is the braking resistor, adjustable in different strengths on most models, which starts to work as soon as you step off the accelerator. The advantage of this "recuperation brake": the brake pads are spared by the relatively infrequent application of the actual brake and the braking energy is not destroyed but converted into electricity and fed into the batteries. The greatest, clearly perceptible characteristic feature of all vehicles powered by an electric motor, however, is their extraordinary acceleration. That is, if it is not deliberately limited – for safety reasons, for example. Which brings us to the actual topic.
E-Motion pur
Some hoteliers, campsite operators or sharing providers in holiday regions may be reluctant to entrust their guests with electric cars because of their comparatively violent acceleration. This scepticism is unfounded, however, as long as the EV hirers have been explicitly informed of this feature in advance. Such theoretical instruction reaches its limits, however, when the guests are offered a trip in an electric projectile called the Porsche Taycan with 760 hp and an acceleration from 0 to 100 km/h of just under 3 seconds. Here, it is advisable to first take a cautious closer look in the form of a ride in the passenger seat…
Those who do not want to afford this special driving pleasure on a permanent basis – or more likely – cannot afford it in view of prices beyond 100,000 euros, recently have the opportunity to get an e-mobile adrenaline rush in two hotels.
"E-Experience Hotel" Deimann
Already in its fourth generation, the Deimann family runs a 5* romantic & wellness hotel of the same name in Sauerland. Situated in a former manor house in the middle of a large park, the property comprises 96 rooms and suites, three restaurants, including the Michelin-starred gourmet restaurant Hofstube Deimann, and the spa in the manor house with a 4,000 square metre bathing and wellness area.
Guests are offered a daily fitness and relaxation programme, weekly hikes with the hotelier's family and the possibility to rent bicycles and e-bikes. And as a recent highlight, a three-hour test drive with the Porsche Taycan Turbo S for a provision fee including cleaning of 89 euros.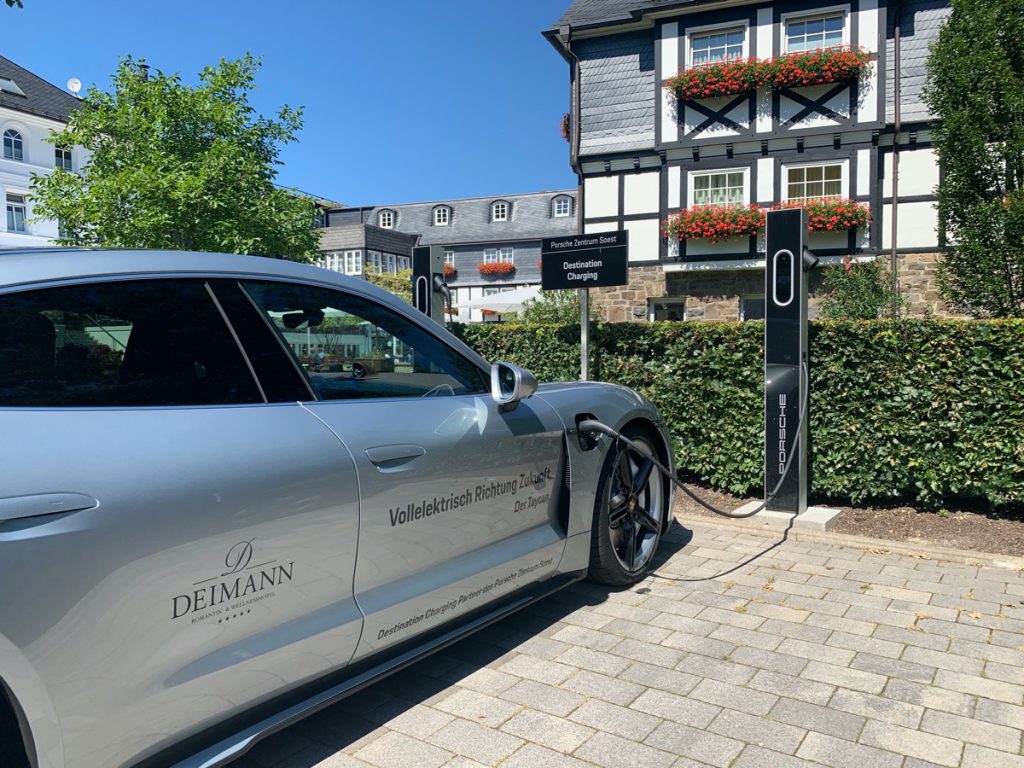 Hotel boss Jochen Deimann recommends his favourite route for this special e-trip "a journey through time in the Sauerland". First stop is the old town of Bad Berleburg with its over 760-year-old castle, before it's time to say "hello" to Winterberg's merchant, at the beautiful market square "Untere Pforte". The tour continues to Brilon, where on Wednesday and Saturday the historic weekly market invites you to sample old and new delicacies. The half-timbered village of Bödefeld presents itself rather mysteriously with its famous relic, the "black hand", in the tower of the parish church.
The entire route leads over serpentines and past green meadows for a total of 123 kilometres. At the end of the route, you should make a detour to the classic Schmallenberg, says Jochen Deimann.
Note: The fact that a "brute power car" with over 760 hp has more than extraordinary driving performance does not automatically mean that its drivers are permanently tempted to want to explore the performance limits of the Taycan Turbo S even close. Apart from the fact that this is probably only possible on race tracks anyway, even electric sports cars in the luxury class encourage gentle, contemplative cruising. Admittedly, occasionally interrupted by eruptive acceleration "explosions"….
Best Western Premier Hotel Rebstock
In Würzburg, guests of the Best Western Premier Hotel Rebstock, located in the heart of the Lower Franconian metropolis, also have the opportunity for a Taycan adventure.
Since Christoph Unckell, owner of the Best Western Premier Hotel Rebstock, has a soft spot for e-mobility, he did not hesitate for long when the electric age was ushered in at Porsche and approached his long-time business partner and managing director of the Porsche Centre Würzburg. An initial idea for cooperation soon led to a concrete e-mobile offer for the hotel's guests.
Luxury life for a weekend
The special weekend "e-package" at the Rebstock includes almost silent cruising – in this case with the Taycan 4 S model variant – through the Franconian wine region or to explore the city. Those who wish can also test the speed of the E-Porsche on the motorway, even if this entails an entry in the personal eco-sin register…The offer is supplemented by two nights with breakfast and an extended dinner in the gourmet restaurant KUNO 1408. "The Taycan weekend offers the ideal opportunity to escape from everyday life for a luxurious weekend," explains the hotel manager. The pleasure can be booked from 550 euros per person, with a lead time of two weeks for the time being. "It is expected that we will have our own model permanently available from January, when short-term bookings will also be possible," says Unckell.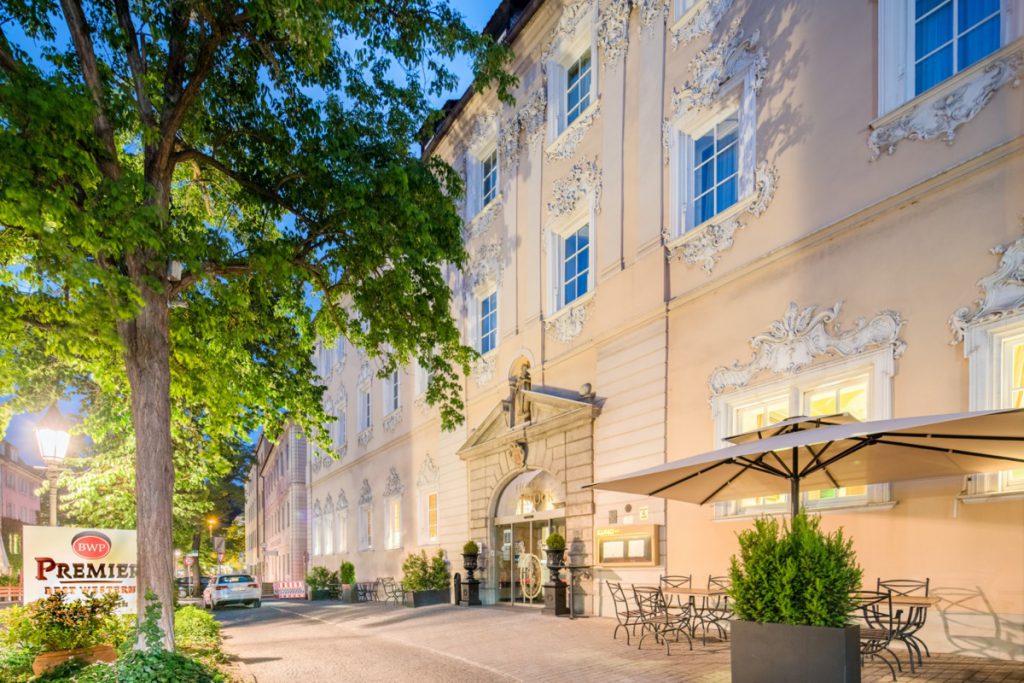 In order to make the E-Porsche visible to the public and at the same time promote e-mobility, the car will be permanently parked prominently in front of the entrance to the Hotel Rebstock. "With our rococo facade, we have a great backdrop for the presentation. At the same time, we reflect our concept: the stylish combination of history and modernity" explains Unckell. In order to make the E-Porsche visible to the public and at the same time promote e-mobility, the car will be permanently parked prominently in front of the entrance to the Hotel Rebstock. "With our rococo façade, we have a great backdrop for the presentation. At the same time, we reflect our concept: the stylish combination of history and modernity" explains Unckell.
The vehicle
According to Porsche, the name "Taycan" comes from the Orient and means "soul of a lively, young horse". In Japan, "Taikan" is supposed to mean something like "physical experience". Both associations apply quite well to the characteristics of this electric sports car. The emphasis is so much on "sport" that even die-hard turbo lovers of the noble Swabian brand are moved to exclamations of enthusiasm.
In addition to the outstanding driving performance of the Taycan, its charging performance also stands out. On the road, Taycan drivers benefit from the 800-volt technology and a special temperature control strategy for the battery. This allows the Performance Battery Plus to be "refuelled" with higher currents (direct current, DC) and thus particularly quickly. In just over five minutes, energy for a range of up to 100 kilometres (according to the WLTP standard) can be recharged at 800-volt high-power charging stations. Under ideal conditions, the charging time for five to 80 percent is 22.5 minutes at an 800-volt charging station, the maximum charging power (peak) 270 kW.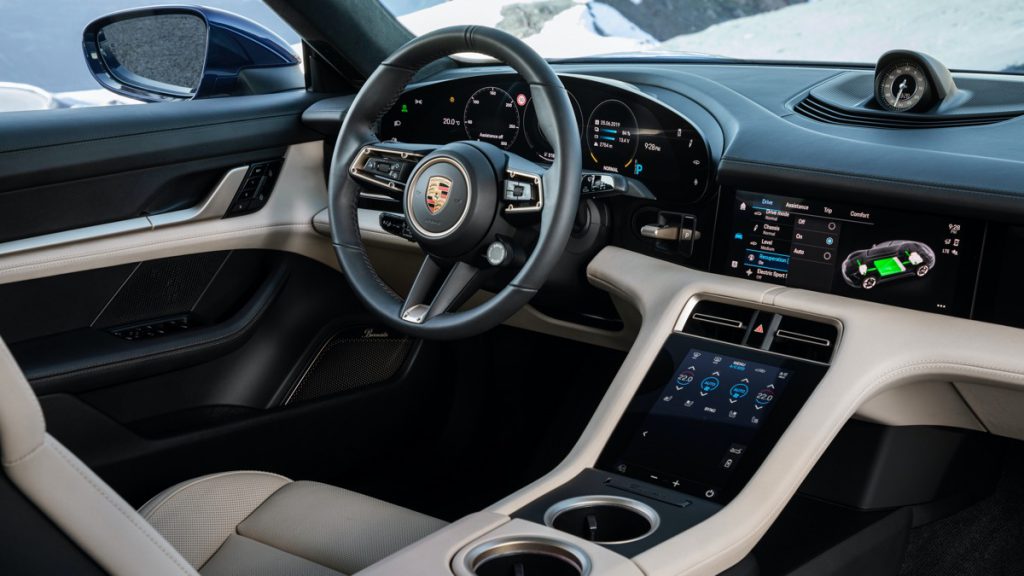 At home, Taycan drivers can gently charge their e-sports car with up to eleven kW of alternating current (AC) in around nine hours.
Porsche offers three model variants:
The Taycan 4 S with 530 hp, the Turbo with 680 hp and the Turbo S with 761 hp. Prices start from 104 T Euro, from 149 T Euro for the Turbo and from 182 T Euro for the Turbo S.
Our assessment:
Through e-mobile guest offers in hotels and tourist destinations, people can be addressed who may not yet have dealt with the topic or who may even be sceptical or even hostile towards it. As the trial experiences show, the attitude of some guests was positively influenced after their first e-experience. In short, hotels can make an essential contribution to the acceptance of e-mobility by providing special driving experiences in a relaxed holiday atmosphere.
However, the fact that high-performance sports cars such as the Porsche Taycan, with their correspondingly high consumption and large battery packs, are suitable ambassadors for e-mobility and symbols of sustainability is not obvious – at least at first glance. However, if you consider that many sceptics of e-mobility still and wrongly dismiss electrically powered cars as a "rolling disclaimer", then emotional top-of-the-range electric cars in particular make a clear statement against these myths. The electric Porsche certainly conveys the message that e-mobility can also be "sexy", even breathtaking. And that only rich people can afford electric cars has long been claimed only by those contemporaries who steadfastly refuse to take a look at the latest registration figures for the now numerous mid-range electric cars.
Text: Peter Grett
Pictures 1 and 2: Romantik- & Wellnesshotel Deimann
Picture 3: Premier Best Western Hotel Rebstock
Picture 4: Porsche