Countless textile brands offer their customers the right outdoor clothing for every purpose and taste. And yet for a long time there was a gap in the market that was finally identified and filled by a resourceful entrepreneur. Since then, pregnant women and parents of babies have been able to find high-quality, functional carrying jackets for the "outdoor experience" that are geared to their special needs.
As we not only wanted to get an impression of the special clothing collection, but also to learn more about the exciting company history, we visited the founder of mamalila at the company headquarters in Altdorf, Middle Franconia.
Innovative business idea
Vicki Marx comes from a family that has been active in the textile industry for a long time, first running a terry weaving mill in Saxony and later a dirndl production in Nuremberg. And so it was obvious that Vicki would also turn to this business field after her business studies, after all, the affinity for fashion was in her genes, so to speak. However, her professional orientation in this supposedly predetermined direction was not so clear-cut at first. Her innovative business idea did not come from a thorough analysis of the outdoor clothing market, but rather from the ambition to find a solution to her own private "problem". When the enthusiastic nature lover became a mother of a daughter, she wanted to take the baby out into the fresh air as often as possible to relax herself and at the same time give the little one closeness and security through close physical contact. However, because a baby carried on the body does not fit under its own jacket when it is raining or cold, and thus has no protection from the rain, the later mamalila founder herself set about "tinkering" – as she says – a common cover to at least provide protection from the rain. Soon, the first ideas came up to expand a jacket with zip-in inserts. When Vicki Marx finally noticed an obvious demand for practical and sustainable outdoor jackets for mothers and babies before and after birth via parenting forums on the internet and made her first supplier contacts at a fabric fair, the private approach to a solution turned into a business idea. Since its founding in 2005, mamalila eventually took a steady development with a thoughtfully expanded product range.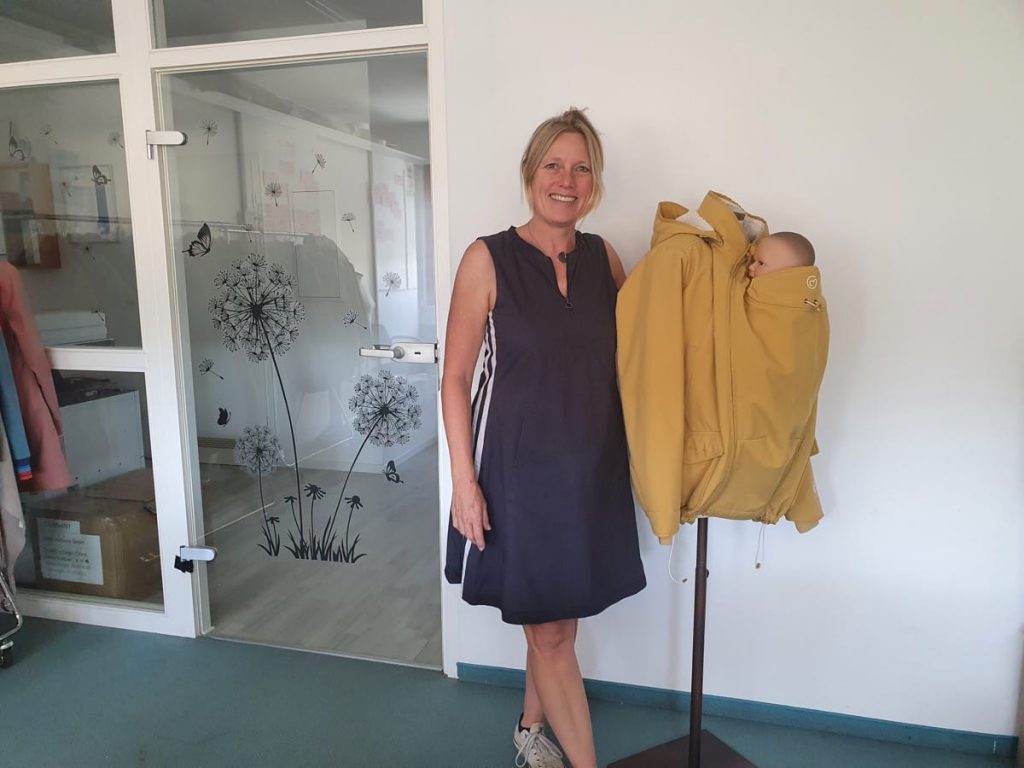 Variability of the products
Pregnant women find the answer to their needs in a garment just as much as parents of newborns who want to wear their child until the age of about two. Vicki Marx talks about the 4-in-1 principle of her jackets, in which the baby can be carried under the jacket in all mamalila models, both on the front and on the back. To do this, an insert for the baby is added to the jacket to make it a carrying jacket by simply zipping it into the front or back zip.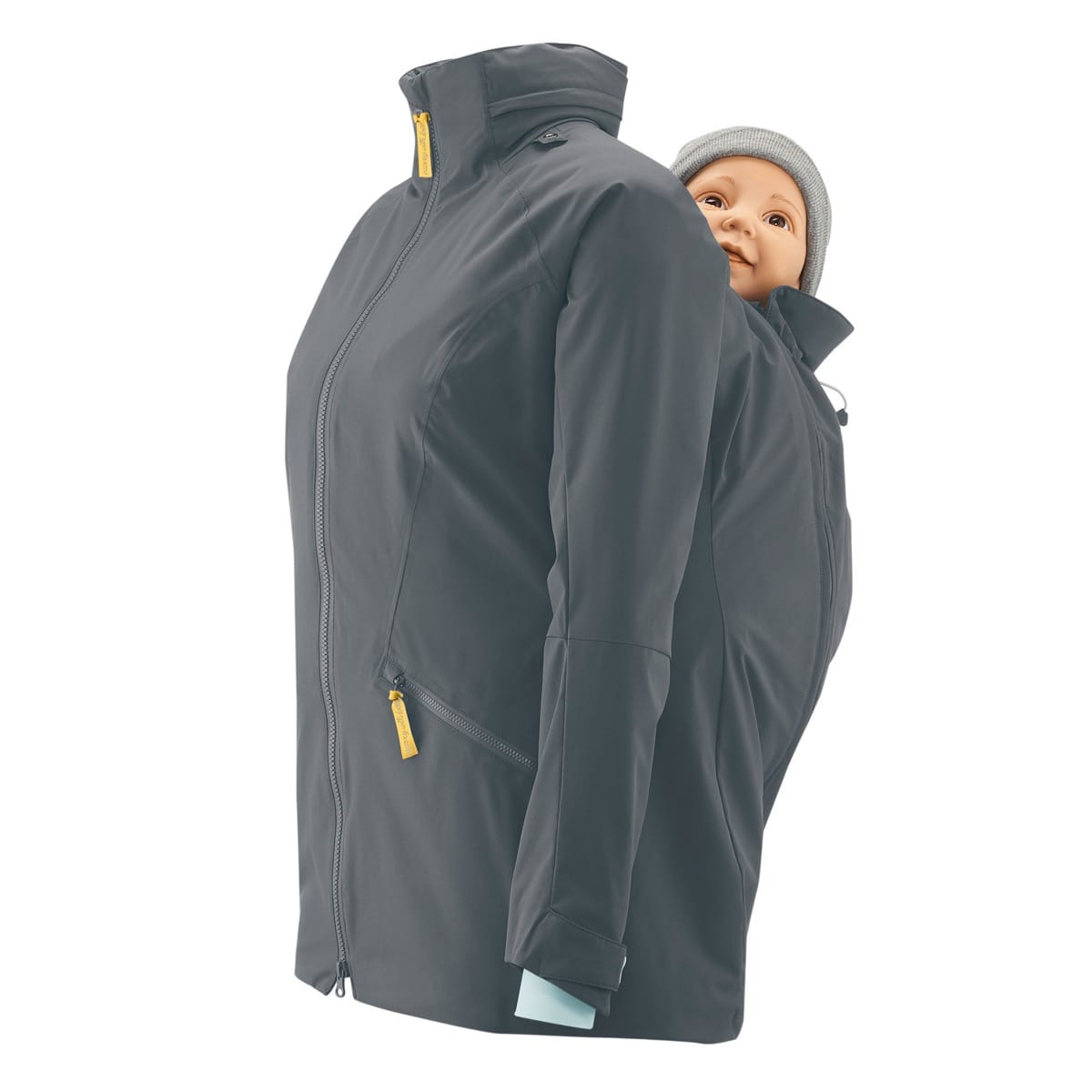 The jacket can be extended just as comfortably for the pregnant belly. And if you want to wear your mamalila as a normal jacket, you can simply leave out the insert. In addition, the baby worn under a jacket in a sling or carrier is protected from wind and weather. Depending on the model, this is ensured by differently designed baby inserts.
Main feature: functionality
The jackets from mamalila are both carrying jackets and high-quality functional jackets. They should warm without overheating and keep not only the baby but also the parents dry. Of course, a padded winter jacket has different qualities than a trench coat, and a professional outdoor jacket has to meet different demands than a hooded coat made of woolen whale. That's why mamalilas uses special function icons that allow customers to see at a glance which properties apply to a product and to what extent – from 1 (very low) to 6 (very high). The criteria include waterproofness, windproofness, breathability and protection against the cold.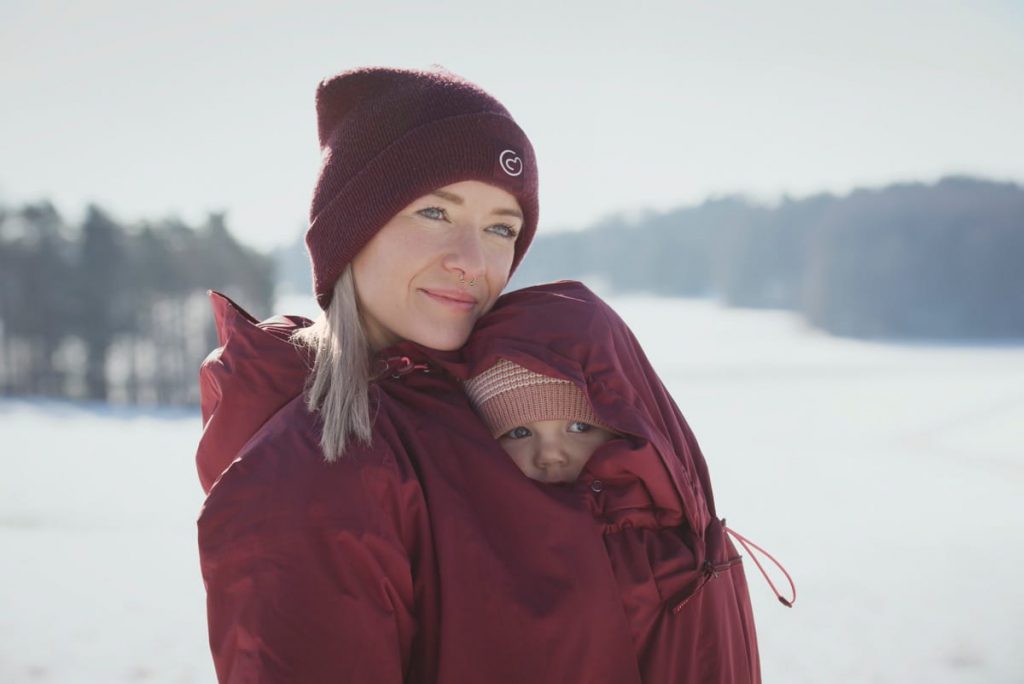 Sustainability – a central claim
One significant sustainability feature is undoubtedly the durability and longevity of products. In the textile and fashion industry in particular, however, ever shorter model life cycles and a flood of new collections are creating permanent incentives to buy. "Fast fashion" has thus become the watchword for many suppliers, although outdoor companies traditionally tend to resist this environmentally damaging trend. This is also the case with mamalila.
From the very beginning, Vicki Marx attached great importance to high product quality and thus durability of her garments. If only because these are to be used again in impeccable condition in the event of further pregnancies. And of course also in between as normal everyday and hiking clothing.
In addition, it is a top priority to ensure that products with which babies and children come into contact are safe for their health. For this reason, but also to meet the increasing customer demand for ecological products, the mamalila founder attached great importance to the highest possible degree of sustainability in materials and production from the very beginning. Moreover, this also corresponded to her own claim. A demand that the team has faced and continues to face many challenges in meeting. Sometimes compromises have to be made, for example in the selection of raw materials and suppliers. After all, it is not possible to source all parts from the region. For example, a company in Poland supplies simple patterns, while the wool, some of which is recycled, is purchased from a family business in Italy.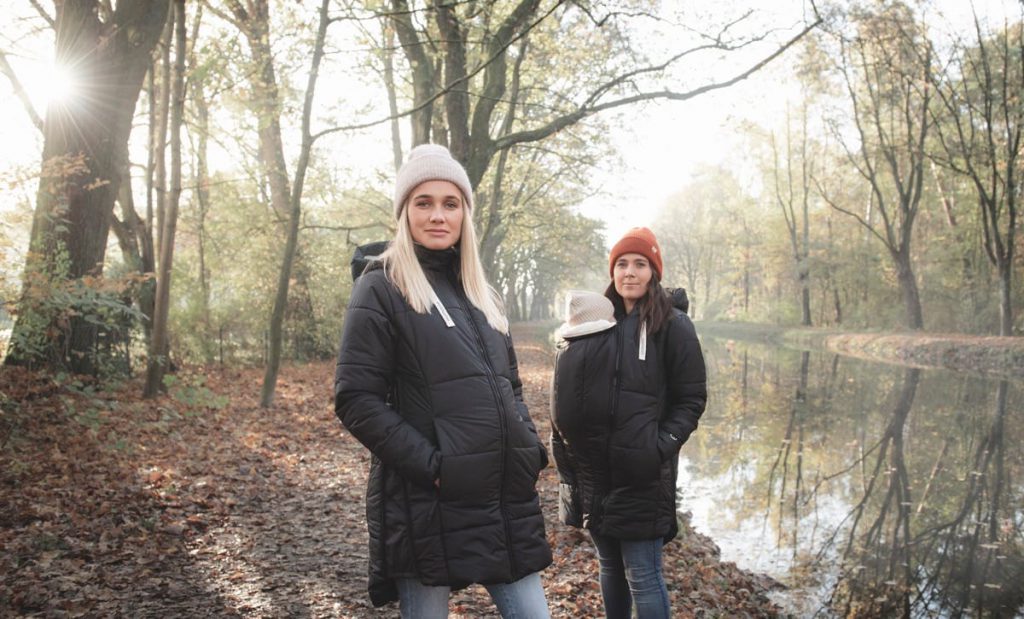 Almost all products are made from recycled polyester or natural textiles such as wool and cotton. In other areas, too, mamalila tries to keep its ecological footprint as small as possible, for example by printing catalogs and brochures in a climate-neutral way.
Use of certified materials
Especially in the selection of fabrics and materials, the mamalilas are guided by the demand for sustainability. The individual aspects include:
Organic quality: only organic cotton from controlled organic cultivation (kbA) is used.
Reuse: Where possible, recycled or recyclable fibers are used.
Innovation: Newly developed materials are often excellent alternatives to animal products such as down.
Skin and environmental compatibility: Ingredients that can accumulate in the ecosystem or even in humans are consistently avoided – not only when the jackets are worn, but also during their manufacture or, for example, through evaporation on the sales floor.
Social responsibility
The claim to act sustainably also applies to the production of the jackets, after all, the manufacturer of high-quality textiles also has a responsibility towards the people who sew the jackets in countless individual steps. That's why mamalila works exclusively with family-run businesses that demonstrably create fair working conditions. Among other things, this means fair wages, no child labor and effective measures for occupational safety. Regular visits are therefore made to the production sites, thus maintaining the closest possible relationship with the production partners.
The standards of these sustainability labels are met by mamalila products:

Text: Peter Grett
Images: Lead story and Images 2-5: mamalila
Image 1: Peter Grett