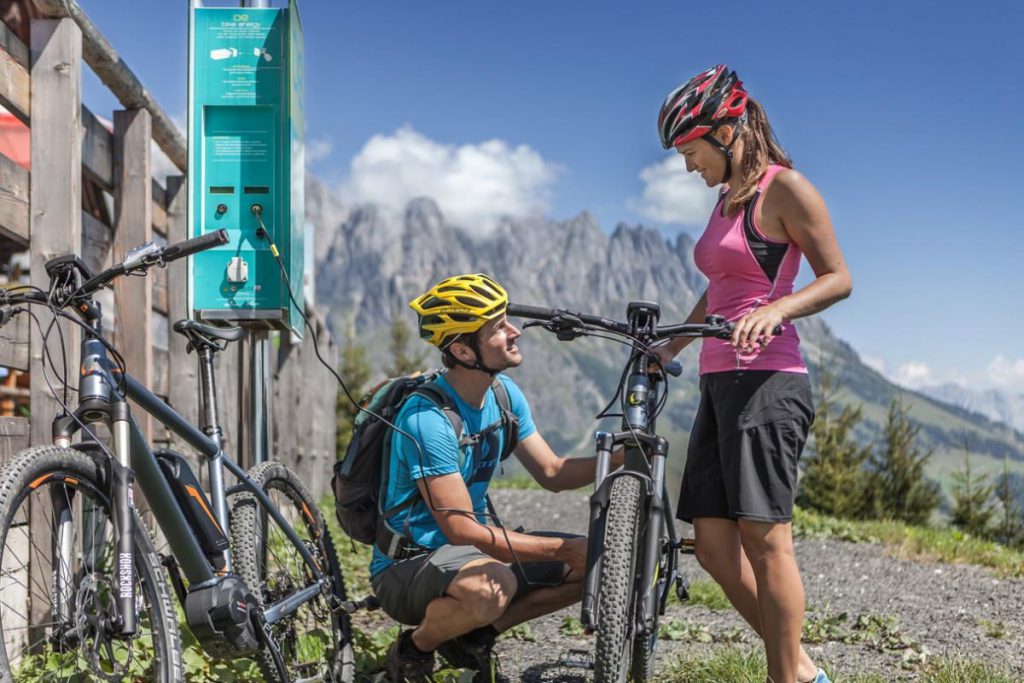 E-biking in the imposing alpine and rocky realm of the Hochkönig. The Hochkönig tourism region offers "Hüttenhopping" with gastronomic highlights and plenty of e-bike filling stations.
Where today the glacier of the Hochkönig ekes out its dwindling existence, it is said that the shepherdesses were once tempted by nature's pure abundance to live an immoderate but miserly lifestyle. As punishment, the sprouting alpine pasture was buried under "eternal" ice, along with the hard-hearted dairymaids.
Today, the ice giant serves primarily as a backdrop for numerous holiday activities that take place around the Hochkönig and Steinernes Meer. Under the slogan "The peak of emotions", the Hochkönig tourism company offers a wide variety of routes with different requirements for mountain and e-bikers.
CULINARY ROYAL TOURS
A special "treat" is the "Culinary King Tours" guided by a professional bike guide. The tours cover different fitness levels and each start from one of the three Hochkönig communities of Maria Alm, Dienten and Mühlbach.
The "Gipfelstürmer Tour" is the most challenging, there is also the "Sleepy Birds Tour" for late risers and the pleasure-oriented "Natur Pur Tour". All tours include a stop at various mountain huts and mountain inns, where both the bike battery and your own energy reserves are replenished with seasonal and locally produced specialities.
The prices start at 68 euros, with the Hochkönig Card the prices are reduced by about 10 percent. Included are the menus, an introduction to the riding techniques and the guide. Each tour is also available as a gift voucher. Those who do not have their own suitable e-bike can rent one on site at special rates.