New Wave Frame for My-Boo Bamboo E-bikes 
The company
2012, Kiel: Two friends – two visions. E-bikes made from renewable raw materials and cross-continental cooperation at eye level, including social responsibility.
The bicycle/e-bike as a sustainable means of transport reinforces the effect if it is itself made from renewable raw materials. Bamboo – a "natural cane" with high stiffness and enormous flexibility – is an obvious choice.
Frame construction in Ghana, where the grass plant grows and reaches a height of 20 meters in three years. Frame construction also takes place there – up to 80 hours of manual labor are required. Assembly takes place in Kiel, also by hand – one skilled worker, one bike. Every bike purchase supports the Yonso Project Model School in Ghana, which currently has 400 students.
Produkt-Portfolio
From the city bike to the hardtail E-MTB. My-Boo e-bikes are available as City, Trekking, MTB as well as cargo bike (Longjohn). The new frame is suitable for all applications.
Bike characteristics
A small, but even at first glance striking step – the new frame connection technology: Flax replaces sisal, the connections become less "knotty", resulting in chassis with less material and space requirements. Looks a bit like chocolate casting, but brings advantages in weight without adversely affecting the driving characteristics. Stability and the flex characteristic of riding these bikes are fully preserved. Important: the bikes continue to meet all legal requirements for pedelecs, in all set-ups from city to SUV and cargo bike.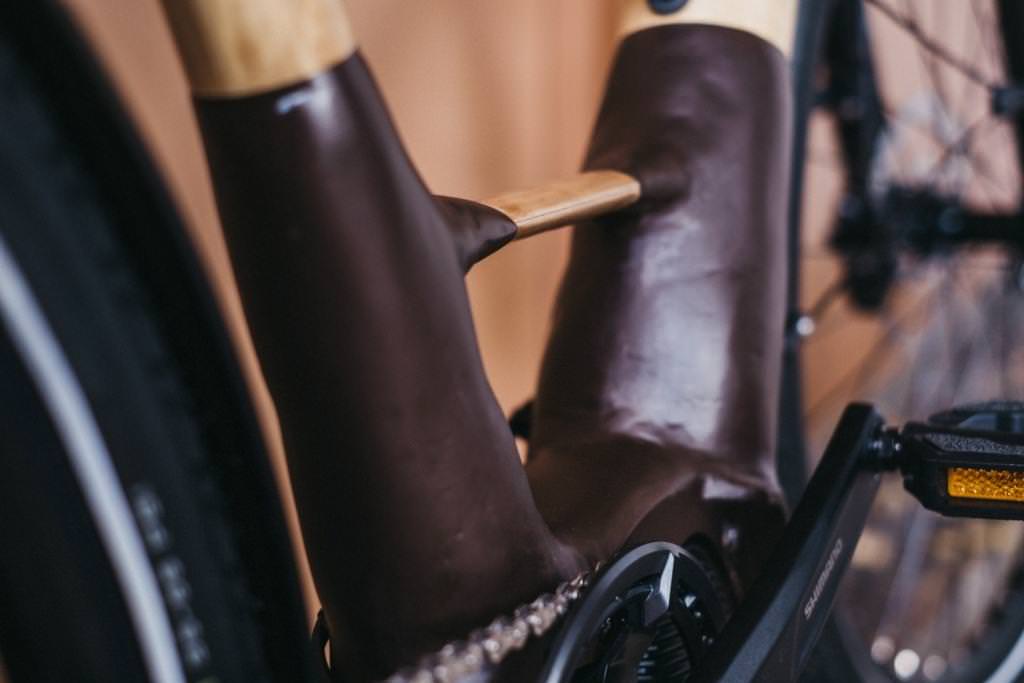 The advance is significant because a step-through wave frame is the most susceptible frame shape to handlebar flutter and bobbing when riding at higher speeds. Diamond and trapezoidal frames form triangular structures that absorb higher lateral forces and almost completely eliminate twisting by design. The new connection technology creates a potential for comfort on all bikes that was previously not possible due to the natural materials. Due to the now possible spread of the chainstays, wider tires are now also possible.
Technical data:
Due to the different bikes in which the new frame is used, no specific data is given here.
Price: Due to the different bikes in which the new frame is used, no price can be given here
Text: Werner Köstle
Images: My-Boo