Bergamont Hans-E LT – Compact longtail with space advantage
The company
"Back to the essentials" is a claim for the e-bikes from Hamburg's trendy St. Pauli district. Bergamont knows how to harmoniously and credibly combine Hanseatic cosmopolitanism with a dash of underground. As a motive for their actions, the manufacturer states that they want to actively shape the change in mobility: "Every time someone gets on a bike instead of getting into a car, it's a win for the individual," is Bergamont's motto.
Product portfolio
Bergamont is not one of the big manufacturers, but it is a full-range supplier in the brand quality sector. This means that the St. Paulians cover all genres of bikes and e-bikes, from city models to mountain bikes and heavy-duty e-bikes. And they do so with models that don't change every season and aren't "sold off" via numerous special promotions. The Hamburg-based company also follows a clear line with regard to the placement of its products: Bikes for use, especially in the city, without gimmicks is what they want to build. The everyday value of the bikes is explicitly the focus.
Bike-Charakteristik
The Hans-E LT presented here, which will be available for the first time in 2023, belongs to the category of compact cargo bikes. It has a stretched rear end and thus operates as a longtail, while its brother, the Hans-E, leaves it at "normal" compact dimensions. The LT allows a total weight of 160 kg, the five-speed hub gear is sufficient for flat to medium-steep terrain. Because weight is not quite as important here, a suspension fork is installed at the front. Both variants can be parked on edge and the motto for both is one size fits all. The LT classically has a massive two-legged stand.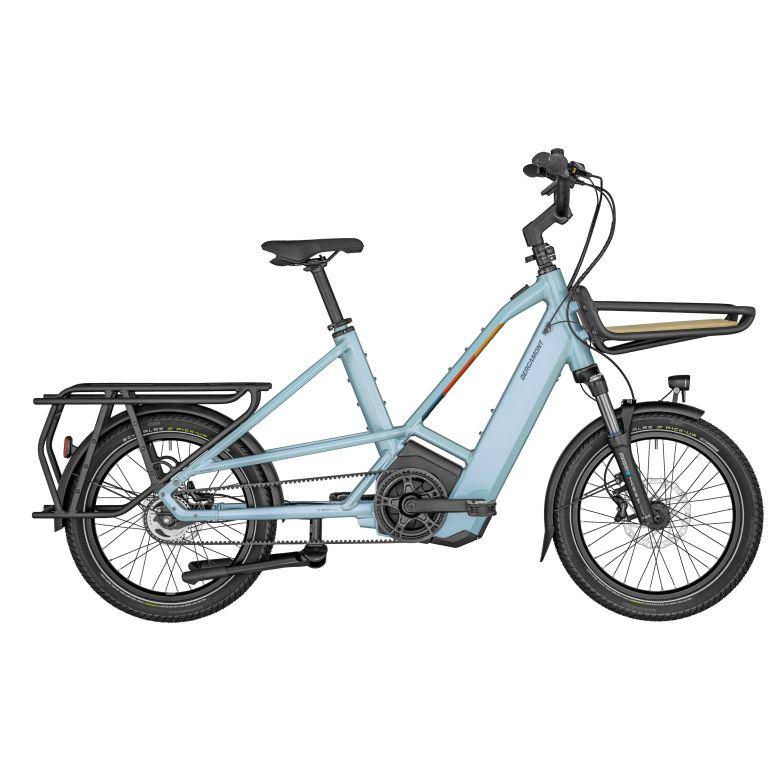 Two things are striking here. First, they tried to keep the dimensions compact despite the load surface. If you take competitors like the Tern GSD for comparison, the LT is 130 mm shorter in length. Due to the load capacity and the extended rear, at least the LT variant qualifies as a cargo bike.
The appearance conveys stability and a certain minimalism. The look is unique; no competitor emphasizes the engine so confidently. Bergamont's engineering skills are evident in the frame, which plays with the contrasts between bulky and filigree: there is not a single tube too many, and none is missing.
Technical data:
Frame: Aluminum
Motor: Bosch Performance
Battery: Bosch battery, 500 Wh
Suspension fork: Suntour 80 mm travel
Gearshift: Shimano Nexus 5-speed(LT)/Shimano 10-speed derailleur
Brakes: Tektro hydraulic
Wheel size: 20 inch
Tires: Schwalbe
Price: 3.999/4599 (LT)
Text: Werner Köstle
Images: Bergamont