The evolution lives on. BMW's first electric bike, the "C Evolution", was already "outstanding" in the motorbike segment, a design icon with extraordinary capabilities and high utility value. Now BMW is launching its "successor", the CE 04, and wants to open "a new chapter of urban two-wheeled mobility with electric drive".
BMW describes its newcomer with corresponding confidence in the press release: "The new BMW CE 04 embodies a new, future-oriented form of urban two-wheeled mobility in its design as well and uses an innovative design language that arouses emotions for this new drive technology and immediately identifies it as a member of the BMW Motorrad family".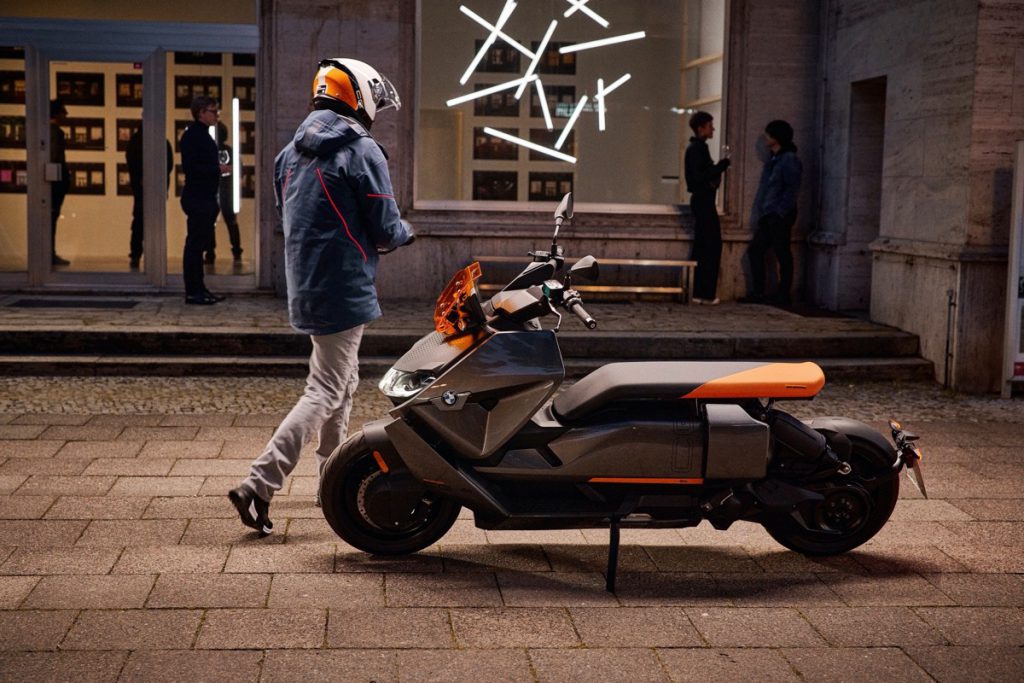 Away from the typical marketing-speak, the large scooter indeed shows an independent innovative design language that visualises the technical necessities such as low centre of gravity and riding stability as well as safety in all aspects consistently and self-confidently. With many a visual highlight such as the "floating" seat or "disc wheels" front and rear.
Technology
The technical specifications correspond to the scooter's intended use as a highly connected city and commuter vehicle that can easily master longer distances on motorways and is likely to make two-person weekend excursions a mutual pleasure in a relaxed state of mind and body.
What is new is that the central components such as the engine and battery pack are based on the BMW automotive standard and are therefore identical or at least largely similar to the electric car components of the iX, iX4 and the plug-in hybrids. The motto is to use existing synergy potentials. The core element is a liquid-cooled, permanently excited synchronous motor with 15 kW of continuous power, which is fed by an 8.9 kWh battery for up to 130 kilometres. The maximum power of 31 kW, which can be called up at short notice, guarantees superior sprints up to the governed top speed of 120 km/h. The batteries and their manufacture are completely new. The batteries and their production are very similar to those of the IX and IX 4 models, and only green electricity, mainly from regional hydropower, is used for their production.
The engine is positioned low just in front of the rear wheel, which is designed as a disc wheel and is set in rotation via a toothed belt. Three riding modes are available ex works: Eco, Rain, Road. A kind of sport mode can also be ordered as an option; in BMW-speak, this is called "Dynamic". Energy recovery during overrun or braking increases the efficiency of this 231-kilogram lump. This is done automatically, the degree of which is calibrated by the controller on the basis of the respective driving situation and the mode set.
Recharge
Charging takes place via a type 2 plug at a household socket or via a wallbox or pillar. The integrated on-board charger allows a charging power of 2.3 kW, a full charge takes about four and a half hours. The optional fast charger increases this value to approx. 7 kW and reduces the time required for a full charge to a good one and a half hours. The charging from 20 to 80 percent, which is rather relevant in practice, especially on the road, takes about a cappucino or a chef's salad, depending on the consumption pace.
Features
It almost goes without saying that the CE 04 has all the high-tech features imaginable today, from extensive connectivity to LED lighting technology and adaptive cornering lights, ABS and anti-slip control to the optional automatic emergency call. The owner does not have to do without a single-arm swing arm, USB charging sockets, WLAN-based internet with various navigation options, a dedicated app and numerous easily accessible storage compartments.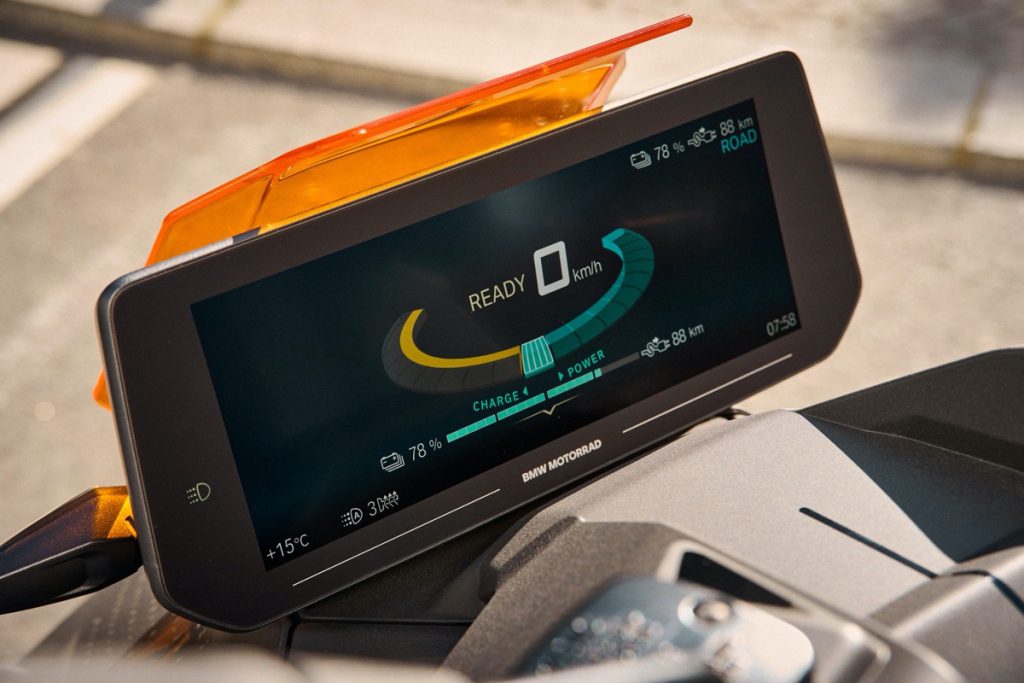 Variants and accessories
The CE 04 is also available as a power-reduced version with 11 kW nominal power (vehicle class L3e-A1) for holders of the A1 driving licence, and also 120 km/h top speed, with a stated range of 100 kilometres.
The range of accessories familiar from BMW motorbikes is also suitable for the e-scooter. And there is also a highly functional "rider's kit" with safety jacket and helmet.
Prices start at a moderate 11,990 euros. The optional equipment variants available ex works cost between 220 and 450 euros.
Text: Werner Köstle
Pictures: BMW