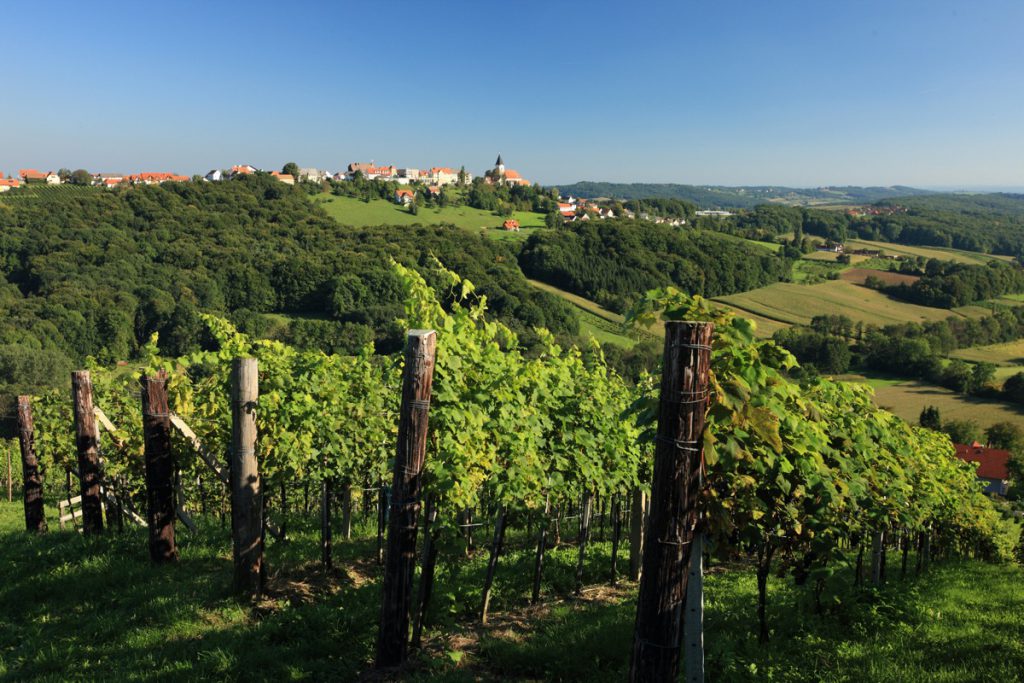 SIMPLY BEAUTIFUL: Dietmar Silly accommodates his guests in carefully built premium holiday homes. Provides them with everything they need and all kinds of delicacies. Gives them space to pause and catch their breath. And an electric car for exploring the unique pleasure region in the south of Styria.
Steiermark. Who doesn't first think of high peaks, tranquil mountain lakes, idyllic alpine pastures or vast forests, wild waters and deep gorges? The alpine and forest regions, however, are by no means the only attractions of the Austrian province, which is richly blessed with its diverse types of landscape and different climatic zones. Lovers of good cuisine, for example, associate the "green heart of Austria" above all with its "green gold", the wonderfully nutty pumpkin seed oil, whose home is in the "other", southern Styria. A wildly romantic region, reminiscent of Tuscan landscapes with its constant "ups and downs" of vineyards, the poplars on its "Rieden" and the omnipresent vineyards. There are few places in Europe where natural beauty, fine wine and other culinary delicacies come together in such a perfect symbiosis as in Styrian wine country. More than 2000 winegrowers have settled along the eight Styrian Wine Routes and have been producing wine here since pre-Christian times.
Some of them serve their guests all kinds of delicious home-made food in their "Buschenschänken", often pleasantly unpretentious garden restaurants. There you can taste the predominantly white wines of the preferred varieties Morillon (Char-donnay), Riesling, Sauvignon Blanc, Weißburgunder and Welschriesling. In many places accompanied by picturesque views of the fascinating hilly landscape, you can also indulge in other Styrian delicacies and homemade treats.
A hearty "Brettljause" (snack), served on a wooden plate or board, is a standard feature of every open-air tavern. It comes in numerous variations and is put together differently by almost every wine innkeeper, depending on taste and the availability of the individual ingredients. Composed of an opulent spectrum of typical ingredients.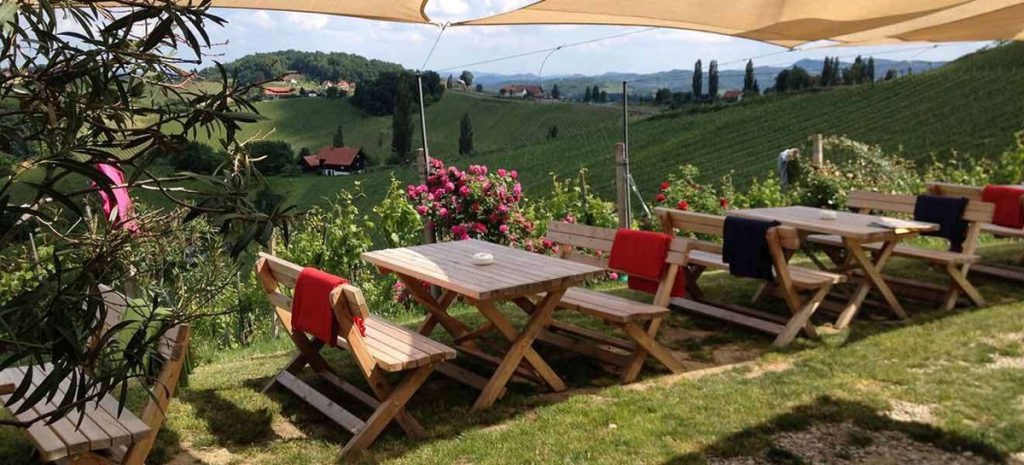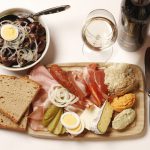 This includes for example
Smoked meat (Geselchtes)
Spreadable liver sausage
Various bacon and ham variations
Cheese
Grammel lard
Unseasoned pork lard with fried bacon bits
Liptauer
Cheese spread with butter or cream and flavouring ingredients such as paprika, onion and caraway seeds.
Verhackert
Spread made from smoked, finely chopped bacon, salt and spices such as garlic and pepper.
Freshly grated horseradish (horseradish)
Kernel oil spread
Spread made of curd cheese, sour cream, garlic,
salt, pepper and finely chopped pumpkin seeds.
Cold roast pork
Dry sausages
Smoked, air-dried hard sausages
Hard-boiled eggs
Vegetables such as cucumbers, radishes, peppers
Farmhouse bread
Doesn't exactly read like diet cuisine. Don't worry, it's not! Instead, it is usually a delicious feast, accompanied by fresh wines typical of the region. By the way: even though Brettljausen have a long tradition, Styrians know how to keep up with the times and pick up on trends. And so, in many places, guests are already being served – often excellent – vegetarian snacks. Whether vegetarian or classic, the nutty and healthy oil of the Styrian pumpkin plays a leading or at least supporting role in numerous regional specialities. The "green gold of Styria" is extracted from the fruits, which are particularly rich in seeds due to a mutation, in a complex process. A salad without seed oil is practically a "no go" in Styria. And rightly so, especially if it contains the brown speckled "Styrian beetle bean", which also tastes slightly nutty. Well dressed, it's a real treat.
No, this region on the threshold of the Mediterranean is no longer a real insider tip. Nevertheless, tourist swarms do not fall for this very special holiday destination, as the younger party people are more drawn to the Balearic Islands or other "event hotspots".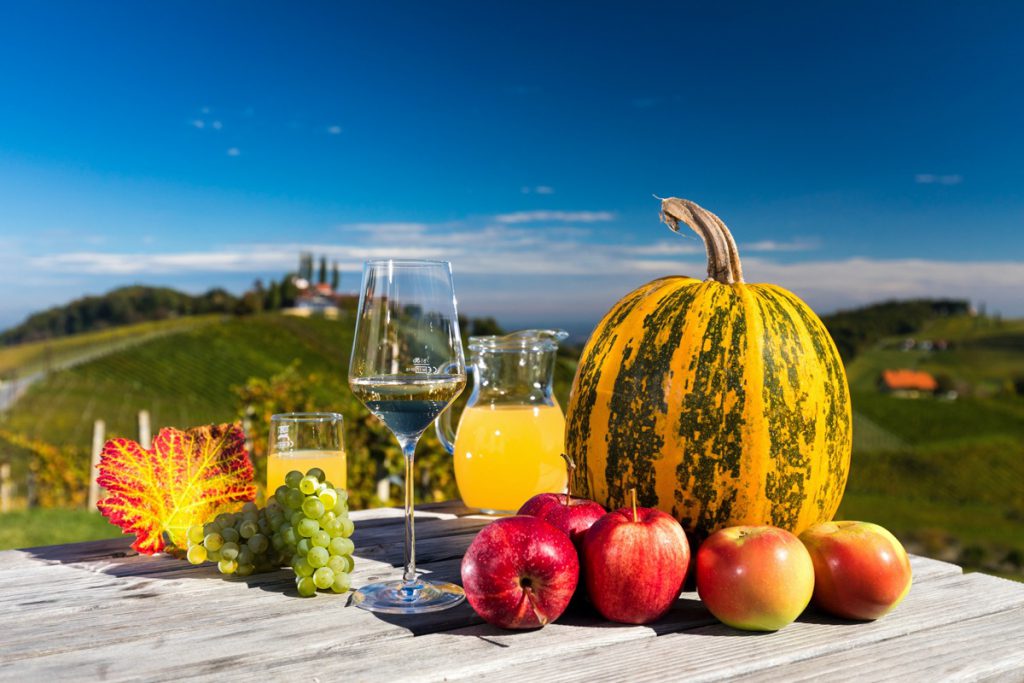 On the other hand, nature and taste lovers looking for contemplation and reflection, but also for cheerful conviviality if required, will get their money's worth almost in abundance. And those who are in the mood for action will not simply be "entertained by others", but will find a challenging terrain for all kinds of sporting activities in the sometimes quite steep ascents of the seemingly endless hills. So if you want, you can earn your credentials for the next Brettljausn with a hearty bike ride. It dawned on quite a few people for the first time during a holiday in the wine country that the purchase of an e-bike might not be such a bad idea after all…
Even if "overtourism" is still a foreign word here, many visitors from the cities, especially Graz and Vienna, are drawn to the south of the country, especially in the gradually colder days of autumn. This is when it is ready to be enjoyed, the drink that is sometimes called "Sturm" because of the effect it has on the digestive system of its connoisseurs. It sounds much more honest and dynamic than the prosaic "Federweißer". Even if certain side effects cannot be ruled out, autumn guests indulge in this substance with fervour – and not only because of its high content of vitamins B1 and B2, which support the nervous system and metabolism. It is rather the sheer pleasure of enjoying the only slightly fermented grape juice with its beautiful balance between sweet and sour. And when a congenial partner is added in the form of freshly roasted chestnuts (Käst ́n) – often offered for sale directly on the street – then happiness is perfect – at least for lovers of both partners!
Unlike "denatured" (wine-growing) areas, where the landscape is characterised by endless rows of vines and every supposedly disturbing growth has fallen victim to intensive farming, the Styrian wine country is criss-crossed by forests and field copses. The constant alternation of natural and agriculturally used areas is not only responsible for the special aesthetic charm of this landscape, but also has a symbiotic effect from which cultivated plants in particular benefit. In addition to wine, pumpkins and beetle beans, numerous other products that can make life pleasant also thrive in this climate. Thus, hops, elderberries, currants (currants) grow just as splendidly as many types of fruit. Apples, pears, plums and quinces are refined into high-quality brandies and vinegars, especially in the more eastern regions of southern Styria.
If you don't just drop by for a short trip in autumn to indulge in the blissful storm, but can take more time, you will benefit from other epicurean delights that the forest-covered wine country has in store. Not just like that, of course, because roast pigeons don't fly into your mouth all by themselves, even in the land of pleasure. So here, too, persistent hunters and industrious gatherers are needed, as well as good craftsmen at the cooker, to bring the fruits of the forest to the table in the form of delicious dishes. Remember: those who still give nature room, who do not subjugate and regulate it to death, also have the privilege of being able to spoil their guests with regional products. Not only from their own cultivation, but also with game, mushrooms and berries from local forests. Who could doubt that Southern Styria is rightly ennobled as a region of pleasure?
AND IN THE MIDDLE: PURE LIFE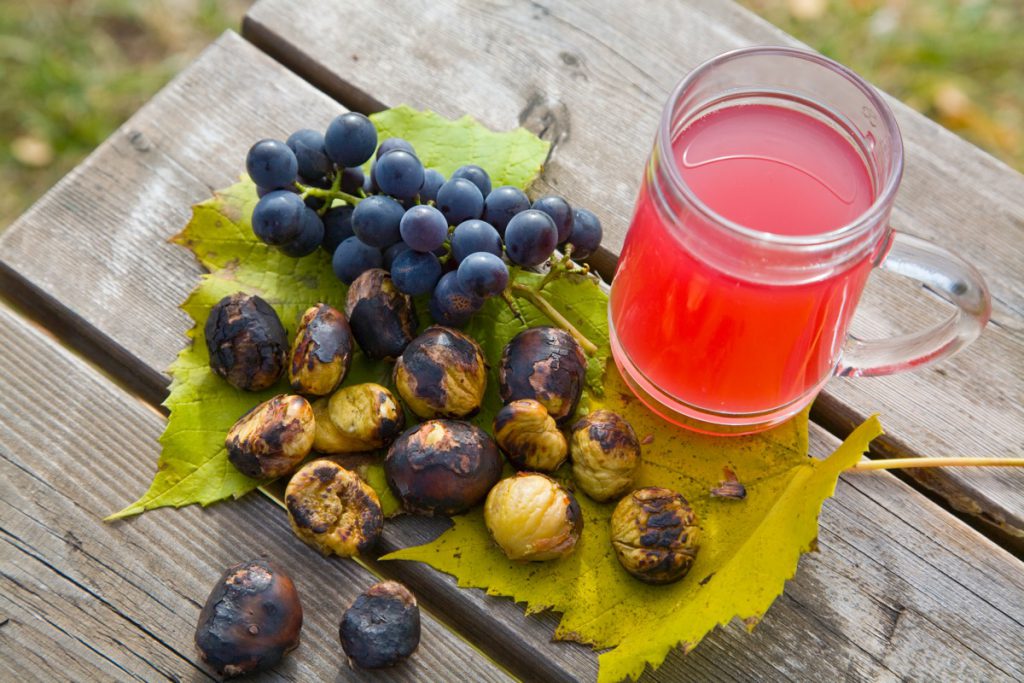 Barefoot makes you want to walk. And you do – with a mixture of awe and desire. The wooden floor radiates warmth without heating the stove in the living room. What does this house have that others don't? It is simple, clear and pure. Goethe comes to mind. He told us that there are three things to look for in a building: "that it stands in the right place, that it is well founded, that it is perfectly constructed". Oh Goethe, if you could experience this, you would know what holds the world together at its core: It is pure life!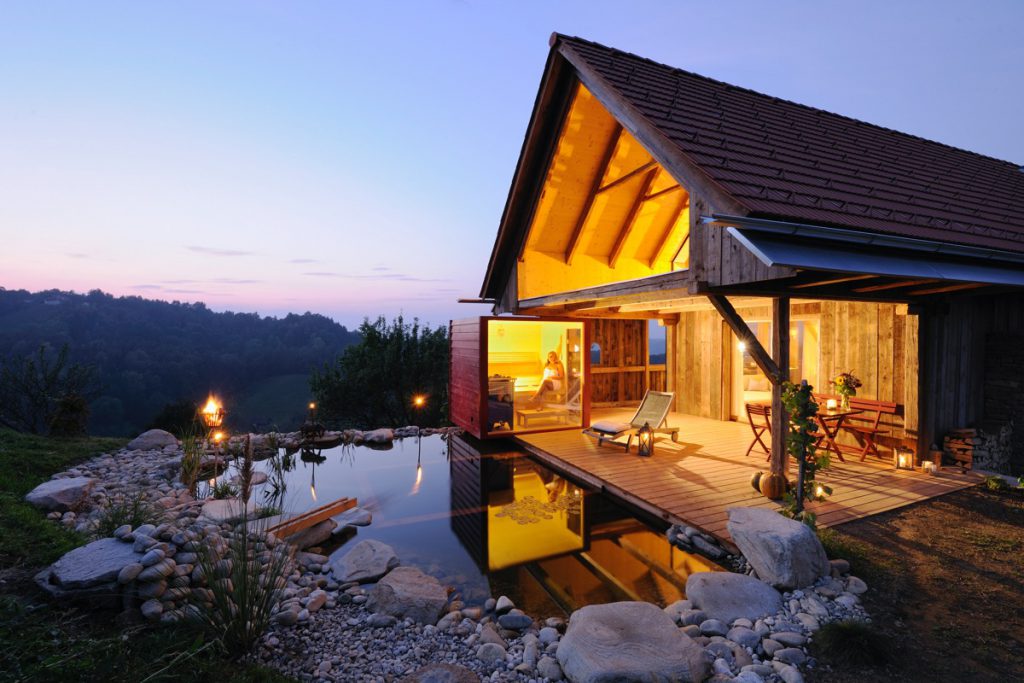 You want to sit on the rough wooden block, watch the horizon wake up, listen to the morning mist because there is nothing else to hear, except maybe the little owl – it is one after all? Holidays in the midst of Styrian nature, truly in the right place; in a house perfectly finished with wood, stone and glass. They are well founded, the holiday homes of Dietmar Silly. All based on an idea that originated in the Styrian heart, some on old foundations and using old materials. They offer peace, tranquillity and seclusion. And what brings and keeps body and soul together: Food and drink, pure and authentic, from the farm and winery of the Silly family. These are the ingredients for a real holiday. Genuine in the sense of breathing and being there. Only smelling, feeling, tasting, seeing, hearing what is without foreign additions. "Oh, that would be luxury!" you exclaim? That's right: Because we don't have all that in our now-world, which is so often too loud, too full, too much. And because life is also a bit luxurious: It is crowned by fine, individual and considerate extravagance that drops by on velvet paws – if you wish.
There is this holiday home life in Styria: half an hour's drive from Graz, the house uniques in the
wine country near the Slovenian border. Dietmar Silly created them with his own hands, and together with his family he keeps them alive. Holiday homes for reflection, drawing breath and never wanting to leave again. These houses are divine or – for agnostics – magical and fabulous places. In the middle of the vineyard or enthroned on it. A divine inspiration came to those who recognised the harmony of these two words and combined them to create Silly's brand: "PURESLeben".
The harmony of stone, glass and wood may inspire us to think about the fragile ecosystem that surrounds us and how sensitive it is to our footprints. Or perhaps we lie completely free of thought in the hand-crafted oak bed or in the four-poster bed in the meadow orchard or wrapped in sheepskins on the placed deck chair somewhere in the landscape. But beware, nature embraces every guest uninvited and without warning! Whoever arrives is immediately taken by the hands and whirled around: east, south, west, north. Sunrise, birds, vineyards, sunset, myriads of stars.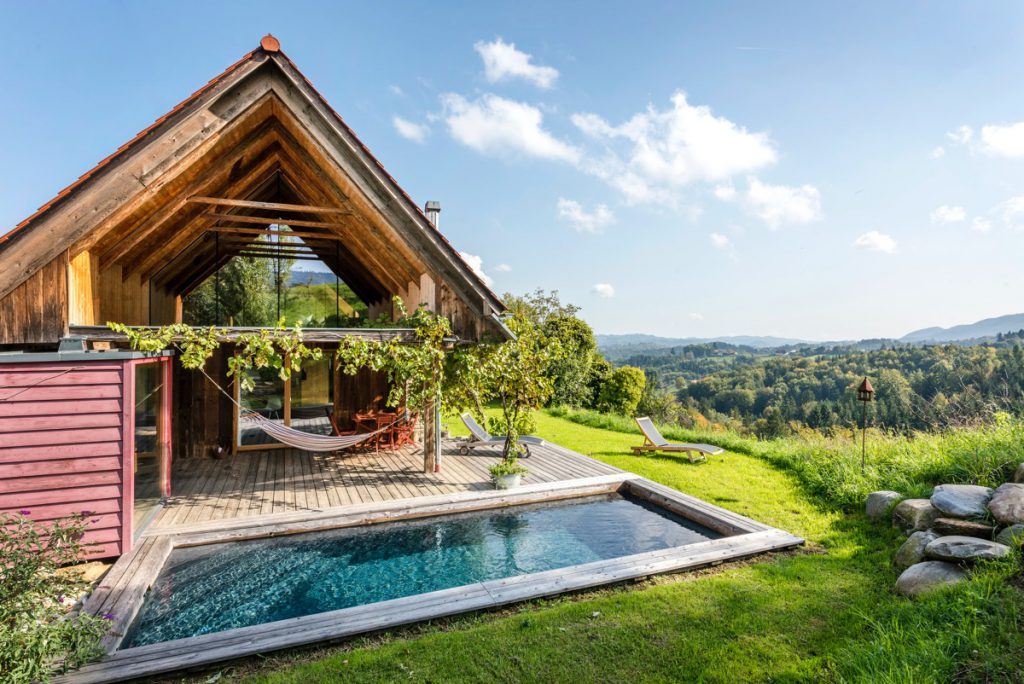 Open and light feel-good spaces have been created from old, gloomy barns.
Travelling and rock'n'roll dancing with nature makes you hungry. In the fridge you find bacon, cheese, peppers, eggs, milk and butter. There is jam on the shelf and still warm bread smells in the basket. Most of the food has been produced by the Silly family with their own hands or purchased from regional suppliers. Schwäbisch-Häll pigs are rooting their way through the perfect pig life there, always outside in the open air. The Sulmtal chickens, once prized at European royal courts for their special meat quality and now rediscovered, scratch, lay eggs and become the "Auf'gsetzten Henn" when the g'standne Steirerin comes to cook in the holiday home – if that's what the guest wants and orders.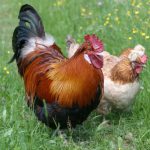 Of course, the chef also cooks other dishes, conjures up a "star" menu and serves it on the terrace under the sky – or welcomes the guest in a proper manner in the stone house above the Silly vineyards. The vineyard where brother Gerald Silly cultivates Welschriesling, Pinot Blanc, Morillon or Zweigelt is located in the Slovenian Plac (formerly Zieregg), exactly on the border to Styria, near Berghausen. An optimal location for the fine, ripe wines of the young winemaker.
Like their elder brother's holiday homes, they breathe a special quality. Speaking of special: unique, if not universally appreciated, often frowned upon and now and then even banned because they are allegedly harmful to health and make their consumers rebel, the so-called self or direct carrier wines lead a niche existence as a regional speciality. These are vines that have not been grafted but grow on their own roots. When European vineyards were once almost completely destroyed after the introduction of phylloxera, it was only possible to preserve European varieties by grafting them onto rootstocks that were mainly imported from America and resistant to phylloxera. When the "saviours" had finally done their duty, they were left behind as rough, unkempt fellows.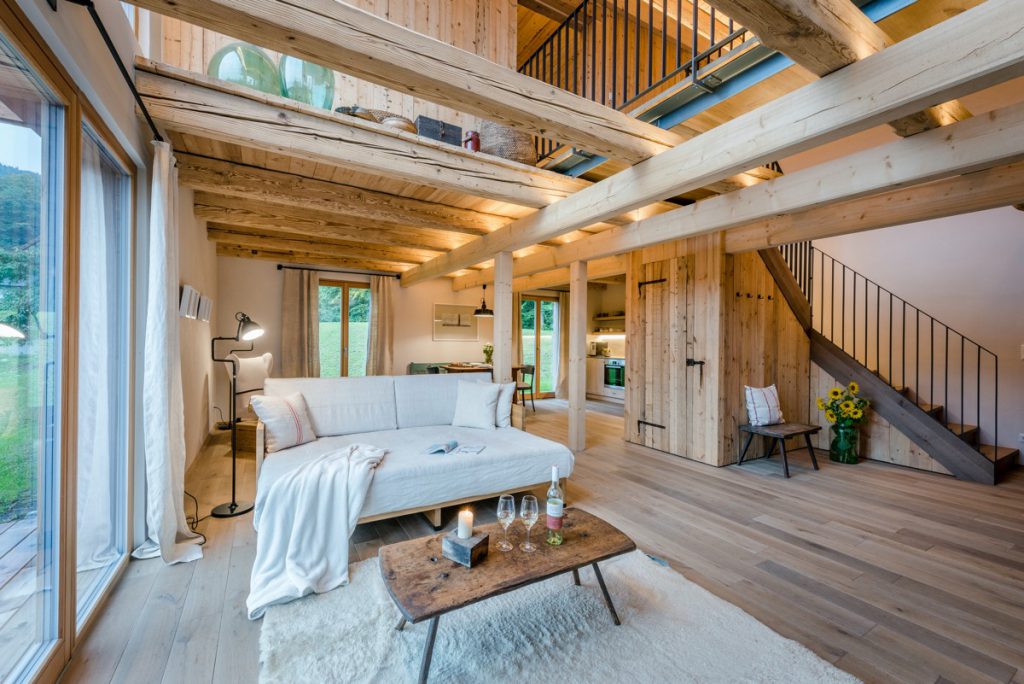 Similar to the interior for every taste: from modern to … better known, also Styrian "Schilcher", not pleasing enough and thus not suitable for the mass market. Gerald Silly has taken on what is probably the best-known self-supporting wine, the "Uhudler", which is predominantly widespread in southern Burgenland – and developed it to astonishing qualities. The bouquet of this wine, a cuvée of grapes from different, less common varieties such as Noah, Isabella, Elvira, Concord , Clinton or Delaware, is usually reminiscent of
Wild strawberries or blackcurrants (currants). Oh, what does it mean to be reminded? Silly's tangy Uhudler-Friz- zante "RosaRot", smells and tastes really like wild strawberries. Pure berry fruit with pleasant residual sweetness. And the nice thing about it: not only house guests can enjoy this speciality and other delicacies. They can be ordered conveniently in the Pure Life online shop.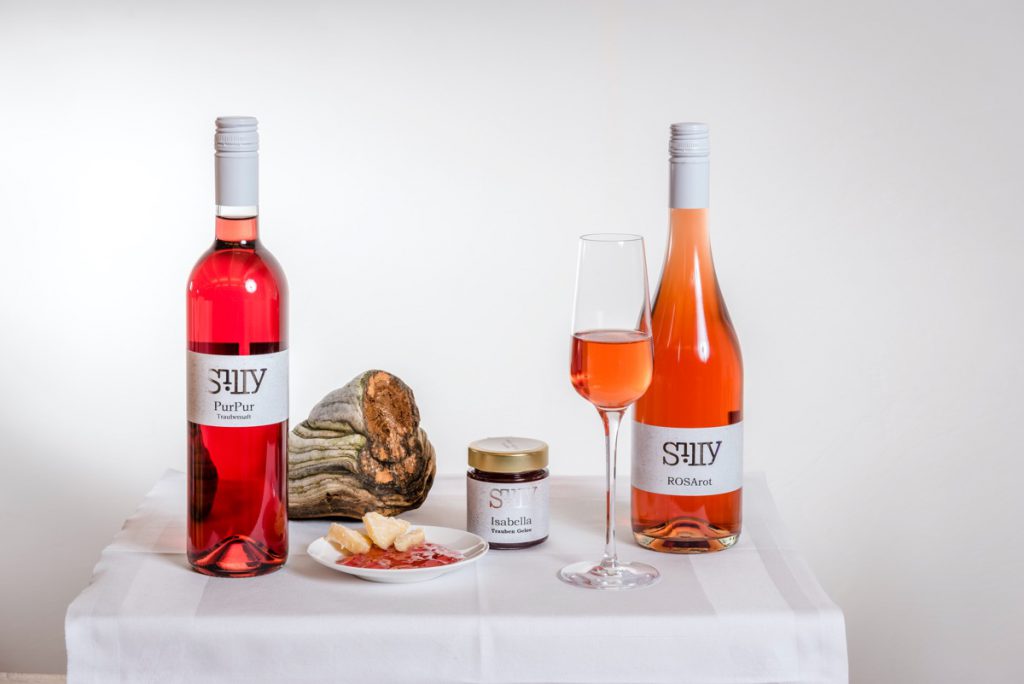 Gerald Silly manages the winery. The father delivers the wine to the customers and is the "pig herder". The mother and grandmothers are responsible for the chickens, vegetables and garden, the sister is in charge of "wellness", organising outdoor massages on the terrace and other Tut-gut experiences for guests. The cousin is a shepherd and makes sheep cheese. All the Sillys act in an exemplary sustainable manner because they can't help it; but without an organic stamp, without a certificate. Why? "Organic – life, that's the normal thing," says Silly, "you don't need a stamp for that".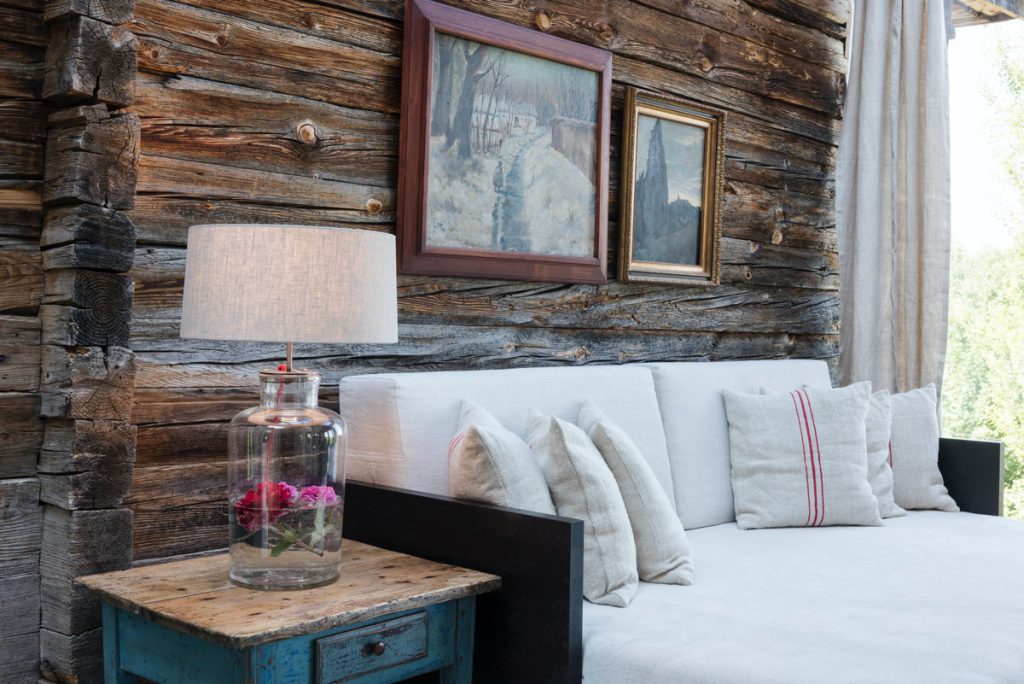 The family feeds grain from their own farm and uses only natural ingredients and spices from their own garden. To be able to print the organic certificate on all bottles and jars, one would have to fulfil "endless requirements". To make it worthwhile, they would have to come up with marketing concepts, market the home-grown, slaughtered, cooked and pressed products in large quantities so that it would be profitable – and that would be the end of the simple, quiet and pure.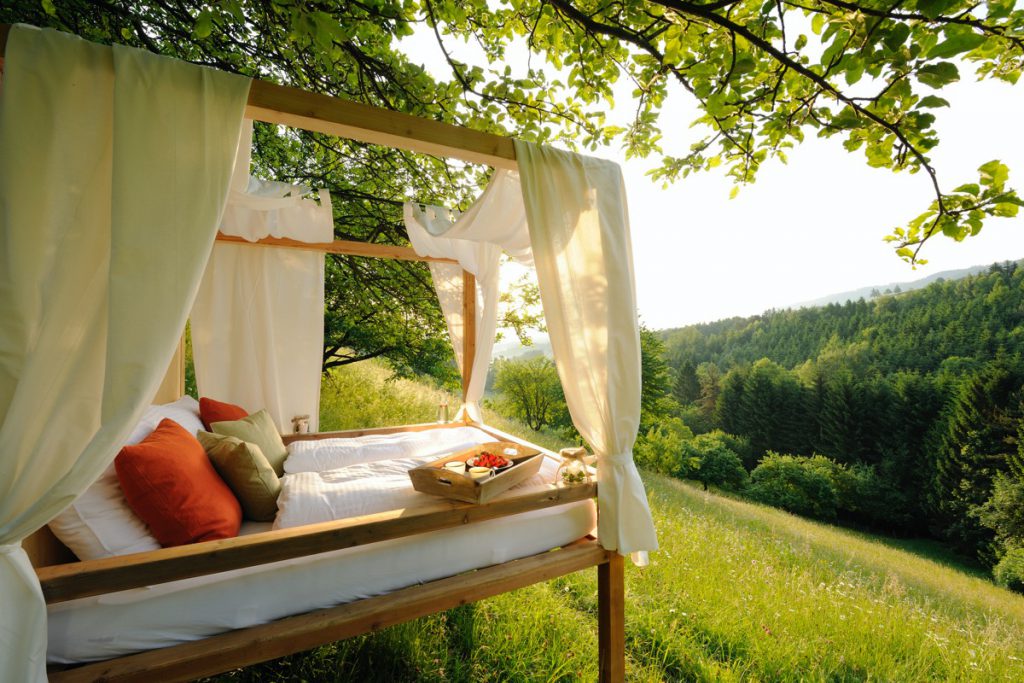 The guest can pursue hermitage or feel welcomed into the Silly family. And what if something is missing? "You have everything you need here," says Dietmar Silly, "and what you don't have, you don't need." That's just the way it is. The key is in the box when the guest arrives. This also distinguishes him from other landlords: "Our job is to make the guest feel at home and comfortable every minute. This means that they want and get their peace and quiet right from the start." Says Dietmar Silly.
At some point someone comes along and asks: Is everything OK? What do you need? What do you want to know, where you can go for a run or a bike ride, have a picnic or eat out? It's the same when you leave: There is no one to see the departing person off, except the birds. The key is put back in the box. Trust is part of the concept. But: Team Silly is "basically available around the clock, approachable for the guest".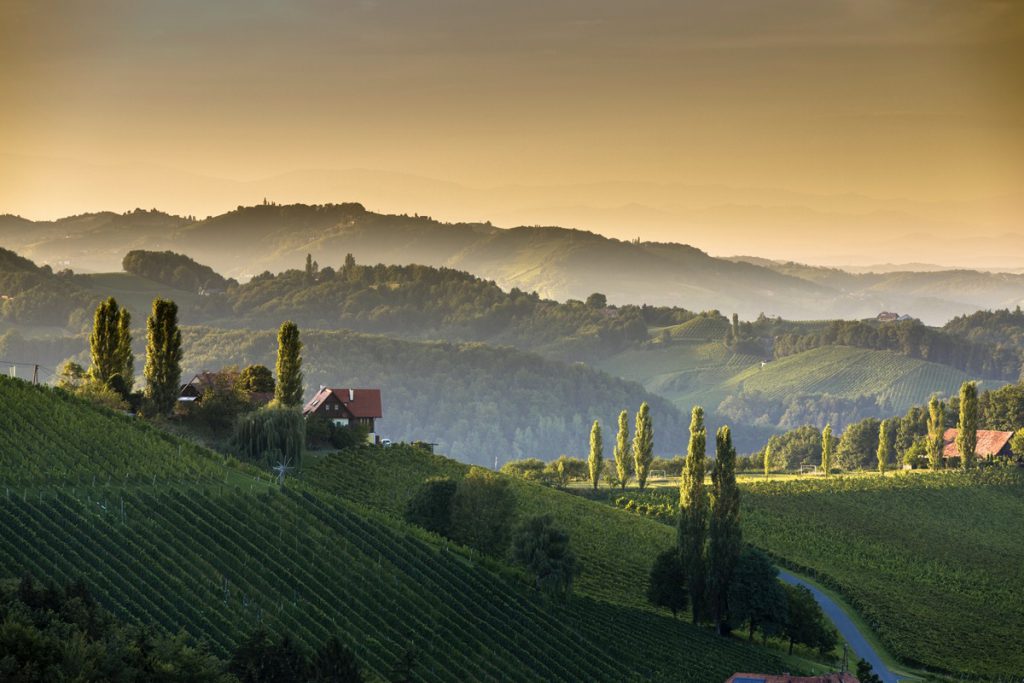 This concept is not off the shelf and it is not yet complete. It has been alive for six years and is growing stronger. Like many lovable things, it "grew out of emotion". Says Silly, the trained cellar master and winemaker who served for 12 years at the Episcopal winery in Schloss Seggau. One day he stopped being a winemaker. Silly built a house for the family and then another. Inspired by the thought: "Here I am at home and here I want to stay!" That's when the first idea grew: to offer holiday guests the kind of living he himself so appreciates: "Not in a too'gshuttered building with completely sealed full thermal insulation and plastic windows, but in a house that breathes." And he doesn't want his guests to have to "eat anything". "That's my taste and maybe I don't meet everyone's taste with it, but I feel: If I live for it, if it burns inside me, then not much goes wrong".
He pays great attention to every detail. Floors, window frames, doors, steps and terraces made of larch and oak, cellar steps and floors made of porphyry, linen and cotton, processed and custom-made in the Viennese workshops, furniture and kitchen cabinets made of solid wood, carefully carpentered, windows that offer a view of a section of the landscape like magnificent picture frames. Old wooden beams that constantly give new life. Like in the barn on the Tunauberg: "For the first time, I have consciously combined the old with the new," says Silly. "What is old, like the wood and the architectural structure, has consciously remained. And what is new has been deliberately added." Preserving and adding to what is already there, building something new on top of it – that is how it should remain and at the same time continue at the "PURESLeben" retreat.
PLEASURE JOURNEY TO HAPPINESS
As pleasant and relaxing as it is for guests to escape from everyday life "in solitude", they would still be deprived of great impressions if they retreated purely to Sillys' oases of peace. After all, southern Styria, one of the most fascinating cultural landscapes in Europe, offers the perfect backdrop for unique impressions. The "Styrian Tuscany" is just waiting to be felt and experienced with all the senses. Also in the literal sense.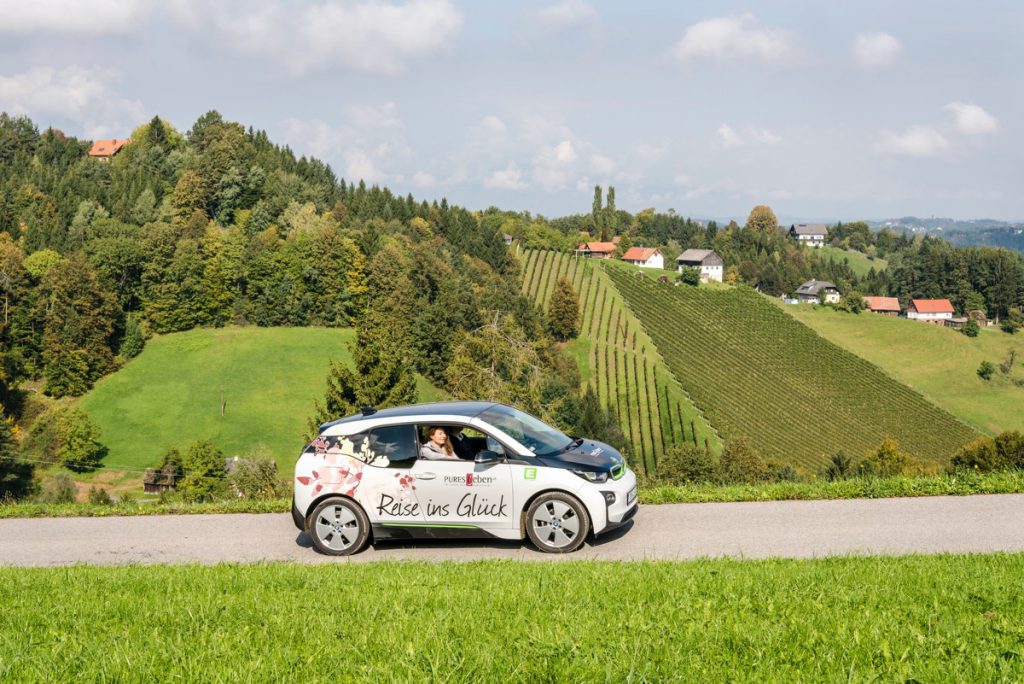 So what could be more natural than to choose an appropriate form of transport for your explorations that guarantees peace and quiet as well as comfort? It is therefore not surprising that the resourceful landlord Silly offers its guests a very special e-mobile arrangement for the discovery trip.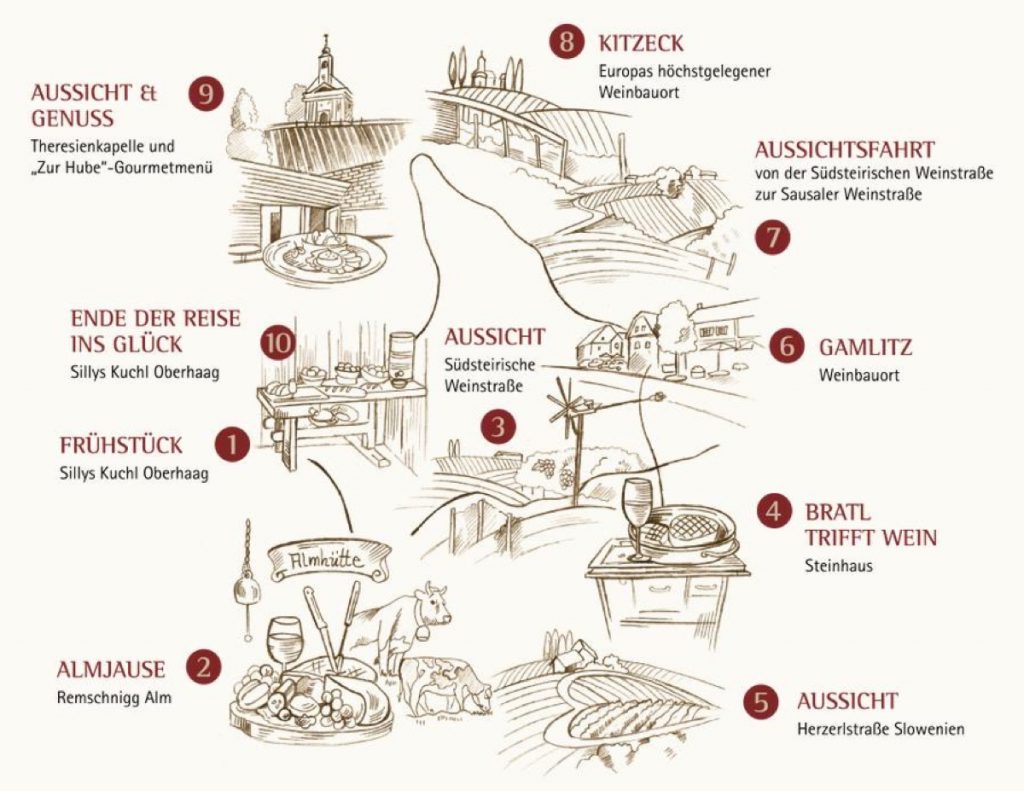 The "Journey to Happiness" pleasure tour takes guests at PURESLeben on a one-day tour by electric car to the culinary highlights and special places of southern Styria. Host Dietmar Silly recommends nine stops that showcase the best of the region in one day and sets the route in the car's navigation system on the day of the tour.
Start either with a regional breakfast at the PURESLeben pub Silly Kuchl in Oberhaag or with a hearty alpine snack at the Remschnigg Alm. Along the South Styrian Wine Road, the trail passes numerous vantage points that invite you to stop and enjoy. After a typical Styrian lunch with wine from the Silly Winery in Steinhaus, you will continue to the wine-growing village of Gamlitz and the Herzerlstrasse in Slovenia, probably one of the most popular photo motifs on the wine route.
The Stromer then takes guests up to Kitzeck, Europe's highest wine-growing village at 564 metres, and to the Theresienkapelle in Pistorf im Sausal, an insider's tip for romantics. With good visibility, the view here extends over the vineyards all the way to Slovenia. Before that, it is worth leaving the South Styrian Wine Road for a detour to the Sausal Wine Road. For dinner and the end of the day, a gourmet menu awaits you in the restaurant "Zur Hube". The day tour "The Journey to Happiness" costs 490 euros for two people. It includes a rental car for one day, breakfast in Silly's Kuchl or at the Remschnigg Alm, lunch at Steinhaus and dinner at the "Zur Hube" restaurant.
Steirische Tourismus GmbH
St.-Peter-Hauptstraße 243
A-8042 Graz
Tel.: +43 (0) 316 / 40 03 – 0
Fax: +43 (0) 316 / 40 03 – 10
www.steiermark.com/de
Regional Tourism Association Süd- & Weststeiermark
Hauptplatz 36
A-8530 Deutschlandsberg
Tel.: +43 (0) 3462 / 4 31 52
Fax: +43 (0) 3462 / 43 15 24
www.sued-west-steiermark.at/de
PURESLeben GmbH
Dietmar Silly
Oberhaag 110
A-8455 Oberhaag
Mobil: +43 (0) 664 / 2 15 50 44
Tel./Fax: +43 (0) 3452 / 7 41 02
info@puresleben.at
www.puresleben.at
BMW i3
https://www.bmw.de/de/neufahrzeuge/bmw-i/i3/2020/bmw-i3-ueberblick.html