Where to put the used shoes?
When it comes to high-quality running shoes, you are faced with a dilemma: after a few hundred kilometres of running, the shoes are usually far too good for the bin, but they are no longer ideal for training. Sure, they usually still look good as leisure time sneakers or the like. But dedicated runners would soon have so many of them on their shelves after a few years that they would probably reach the limits of their capacity. How to escape this dilemma? Donating or reselling would be one possibility. But even second-hand or in the old clothes collection, the future fate of the once so valuable footwear is uncertain. Perhaps it will soon end up in the residual waste bin and be incinerated.
Run – Recycle – Repeat!
The Swiss brand On now wants to create the most logical solution to this problem with a new subscription model: When the shoes with the evocative name Cyclon have done their job, they should or rather must be returned to On. There they are collected and processed so thoroughly that, according to On's internal calculations, a recycling rate of 90 percent can be achieved. The rest of the eco-balance is also quite respectable. According to the manufacturer, the Cyclon running shoe produces 50 percent less CO2 from production to initial recycling. Energy consumption is reduced by 70 percent. From the moment the customer holds it in his hands, it can even be described as zero waste.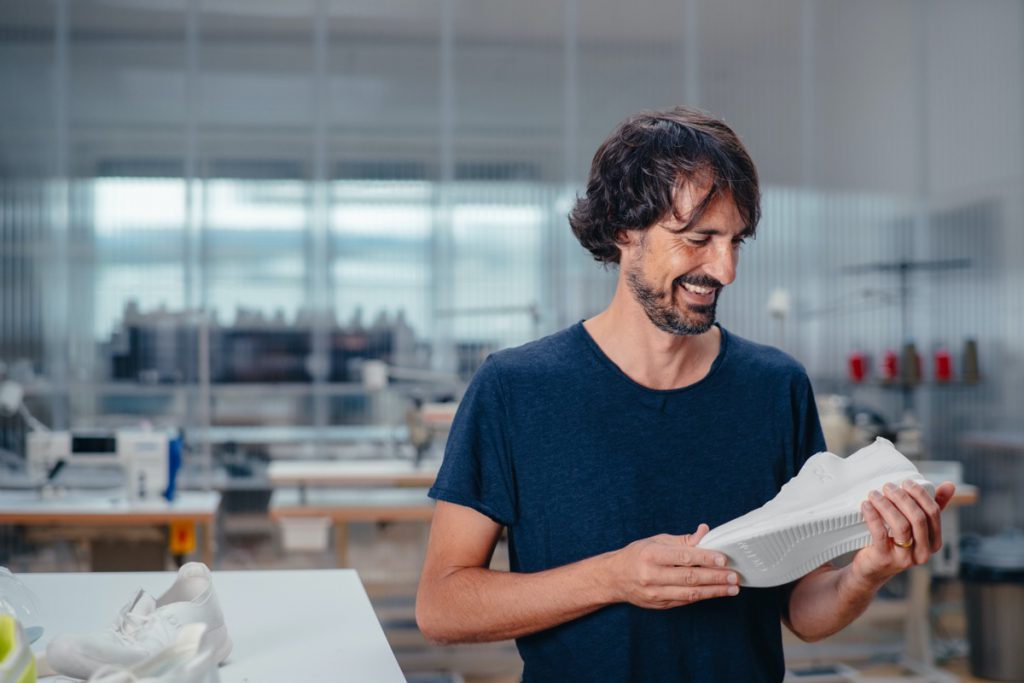 On the road with petrochemicals? Not at all!
The pure recycling is also simplified because the entire shoe consists of only two materials, which also come from the same family. These are two types of high-performance polyamide: the upper material is made of PA11, a bio-based polyamide produced from castor beans. Yes, you read that right, beans! Polyamide fibres can be spun from the oil of the bean variety, which also thrives in otherwise difficult to cultivate dry, sparse soils. The sole, in turn, is made of a polyamide compound called Pebax. Conventional running shoes, on the other hand, are said to use more than about 50 material components from 40 families… To avoid the use of synthetic dyes, which are usually harmful to the environment, the Cyclon comes in all white.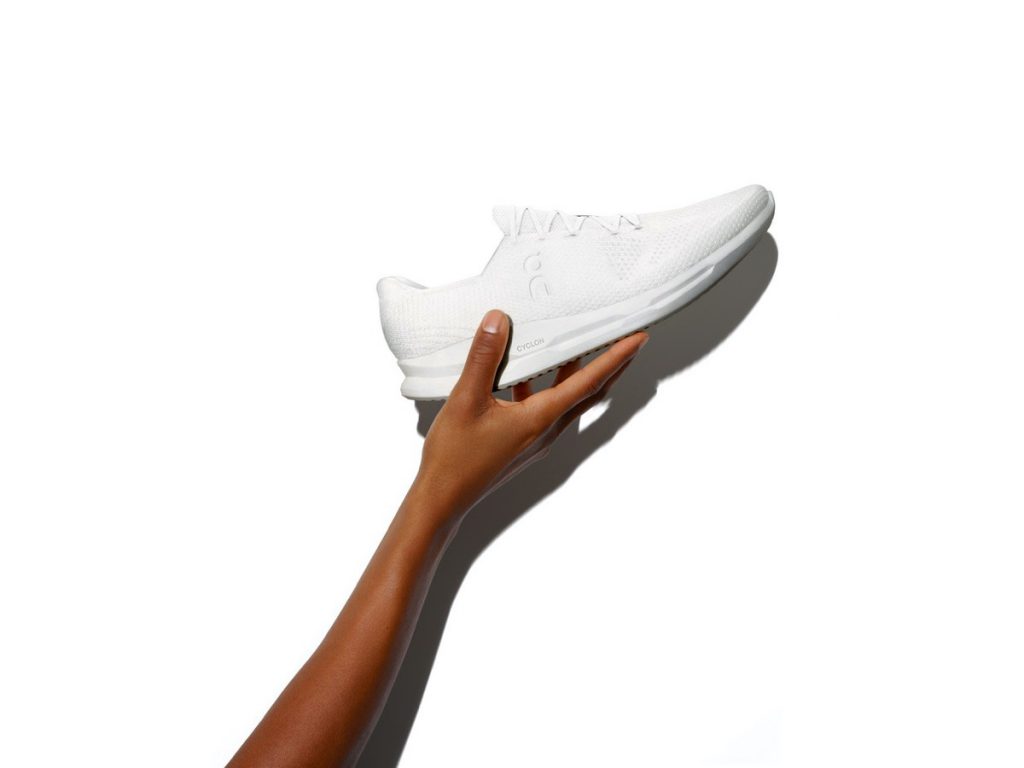 The Cyclon is at the starting line as a subscription shoe, but still has some hurdles to clear…
Sounds as if the Cyclon could take you to the next marathon best time like a hurricane, as if suspended on clouds and with an absolutely clear conscience, doesn't it? There are still a few things to consider: The recycling prime is not expected to be ready for lacing until autumn 2021 – even the laces are made from sustainable bean fibre, by the way. And only for pre-registered subscribers who are prepared to pay 29.95 euros a month for the entire period of use and for registration in advance. And even then, only if enough subscribers come together in the region concerned so that collection and return is possible with ecologically justifiable effort. Once all these conditions have been met and the first subscription shoes have been launched, On assumes that the shoe will be past its prime after an average of about six months and will be returned to the process. This leads to a hypothetical purchase price of about 180 euros, which is typical for the brand. However, if you run with different shoes in parallel, which is not unusual for ambitious runners, or if you put less strain on the shoe for other reasons, the Cyclon could last a whole year or longer. This means that the subscription price for a pair of shoes quickly adds up to over 360 euros. Even if optimal recycling and a smaller ecological footprint are worthy of all honour, it remains to be seen how many supporters such a subscription model can really find in the long term. From an environmental point of view, the recycling project, which has already won two ISPO awards, should be successful.
The ecological footprint does not only play a role in sports shoes
When it comes to the topics of environmental protection, sustainability and recycling, there has been more and more talk about the ecological footprint of other products in the sporting goods industry in recent years. This refers to the biologically productive area, i.e. the number of hectares of forest, pasture and arable land as well as sea area needed to renew the resources consumed for our consumption and to absorb the waste products created. On average, industrialised nations consume about two and a half times as much as is ecologically sustainable. The production of conventional modern sports, leisure or hiking shoes made of various plastic materials, as well as that of functional clothing, does not exactly contribute to reducing the ecological footprint of consumers who are active in sports. But very few people will do their training rounds or hiking excursions on bare soles or in a jute jacket, even if they think ecologically. If you want to run or walk in a way that is easy on your joints or performance-oriented, you usually can't do without cushioning in your shoes and protection from small stones, roots or the hard asphalt surface. In addition, cushioning and stability are only maintained over a limited lifespan, even in high-quality models, due to the materials used. Likewise, it is still a challenge for functional weather protection clothing to achieve a certain level of waterproofness and breathability without synthetic fibres or even fluorochemicals.
Not only sustainable running, but also hiking
For some time now, the Swiss running and outdoor specialist has also been taking up this challenge with hiking shoes and clothing that are intended to make an ecologically slim foot: For example, the Cloudridge hiking boot model is made of 90 per cent recycled polyester, the proportion of which is to be increased in the future. Or the new, completely undyed Cloudrock Edge Raw: its upper shoe is made of more than 80 percent recycled polyester, the sole of 30 percent.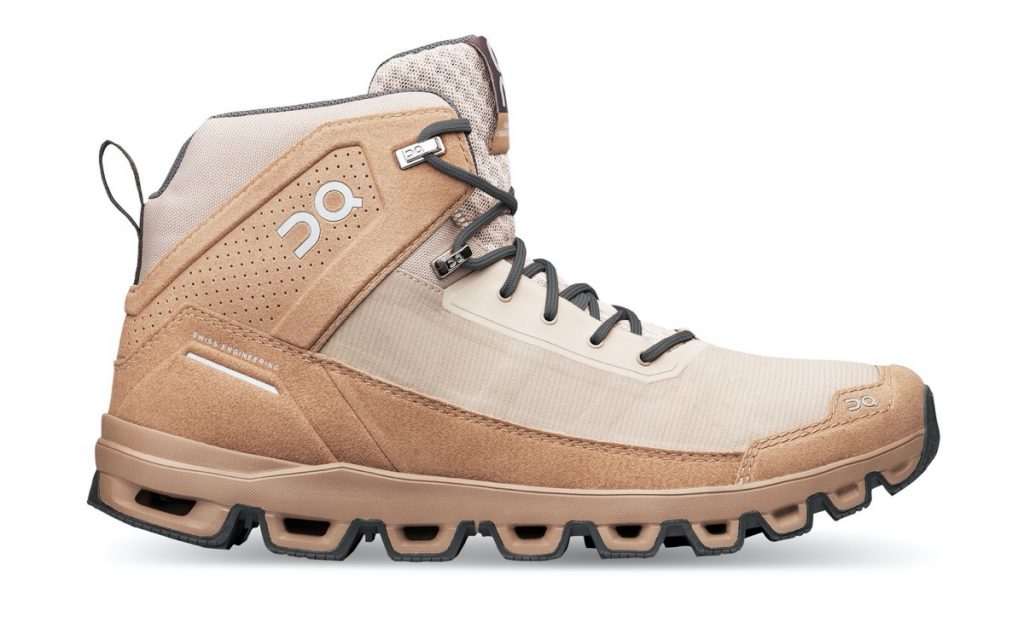 Organic weather protection according to Swiss mountain tradition
Environmentally and fashion-conscious On fans can slip on the Swiss Legacy Jacket. Made from tightly woven organic cotton, it is designed to withstand harsh weather conditions just as well as synthetic materials.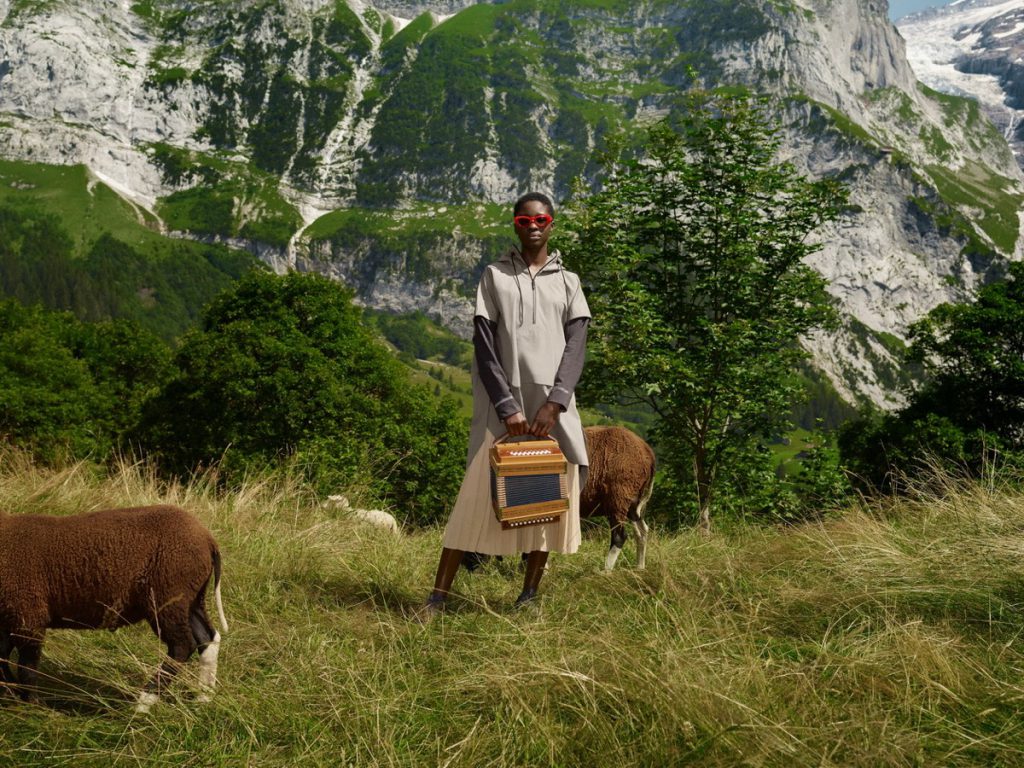 When the special cotton is exposed to moisture, its tightly woven fibres expand, sealing the fabric. A coating with natural oils additionally makes water bead up.
The Zero Waste Hut
Anyone who hikes to the On-Zero-Waste-Hut in the Engadine equipped in such a completely sustainable way can no longer be fooled so quickly when it comes to sustainability. The minimalist On-Mountain-Hut was first set up in the summer of 2019 and was, however, not available for hire to the general public. In 2020, a new edition failed due to the Corona pandemic, and the construction of the futuristic-looking mountain hut also had to be postponed in 2021. When it does stand again, it can be dismantled without leaving any residue, hence "zero-waste hut", and it generates its energy via solar cells.
Where rivers and ideas originate…
And the hut stands – if – in a special place in the Engadine: the Piz Lunghin, also called the roof of Europe. One of the founders, Caspar Coppetti, grew up in the valley of this mountain. Even today, he marvels at this mighty mountain, where three of Europe's largest rivers, or rather their various tributaries, originate: Danube, Rhine and Po. Thus, the Lunghin Pass in the northwest of the summit is the most important watershed in Central and Western Europe, where the water flows northwards into the Rhine to the North Sea, southwards via detours into the Po and finally into the Mediterranean, and eastwards via the Inn and Danube into the Black Sea. The other two founders, former professional triathlete Olivier Bernhard and David Allemann, also feel a connection to the mountain world and contribute their experience to product development.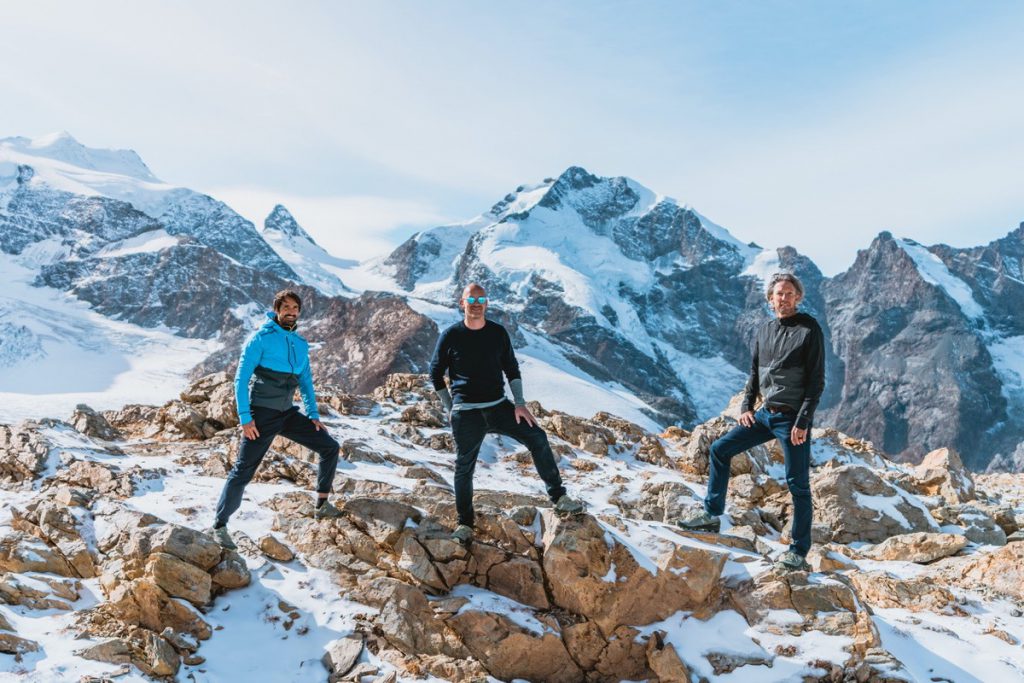 After Bernhard ended his competitive career, the multiple Ironman winner dedicated himself to the idea of releasing a running shoe for the perfect running experience. He teamed up with like-minded Swiss engineer David Allemann, with whom he refined the basic concept of "cushioned landing, powerful push-off" until the first On running shoes hit the shops in 2010. Eleven years later, On running shoes can now be bought in around 7,800 shops in numerous countries or online. In addition to the headquarters in Zurich, there are offices in Berlin, the USA, Japan, China, Brazil and Australia. The company has already won numerous awards for its design and technological advances. To this day, the core of the brand is the feeling of walking on clouds; in recent years, the topic of sustainability has become increasingly important. In addition, tennis pro Roger Federer joined On some time ago and has co-developed a number of shoe models such as the "The Roger" sneaker.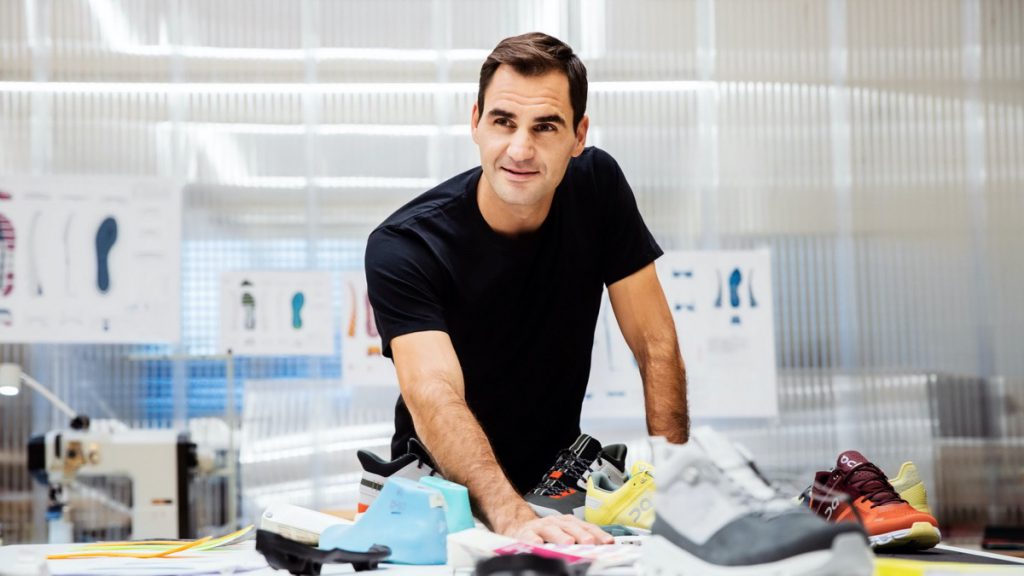 Links:
https://www.on-running.com/de-de
Subscription shoe Cyclon:
www.on-running.com/en-ch/cyclon
Uncoloured Cloudrock Edge Raw:
www.on-running.com/de-de/products/cloudrock-edge-raw/mens/undyed
Organic cotton hiking cape Swiss Legacy Jacket:
www.on-running.com/de-de/products/swiss-legacy-jacket
Zero-Waste-Hut:
https://www.on-running.com/de-ch/articles/designed-different-meet-the-mountain-hut-maker-test
https://www.on-running.com/de-ch/articles/outdoor-a-retreat-before-the-restart-a-few-days-in-the-on-mountain-hut
Models by and with Roger Federer:
https://press.on-running.com/the-roger-clubhouse-reloaded, https://press.on-running.com/make-a-different-kind-of-statement, https://press.on-running.com/roger-federer-and-on-launch-a-highly-technical-tennis-inspired-sneaker
Text: Stefanie Weinberger
Images:
Cyclon, Cloudridge, co-founder, logo, Roger Federer: On
Swiss Legacy Jacket: Lukas Wassmann / On
Mountain hat: Anne Lutz & Thomas Stöckli / On