Increasingly, a special kind of e-bike is conquering both urban areas and a distinctly young and zeitgeisty group of buyers. The characteristic feature of these bikes is that everything that distinguishes classic trekking e-bikes, for example, is omitted, making them firm but also heavy for longer distances. The new generation of stylish urban e-bikes, on the other hand, weighs far less than 20 kg, is hardly recognisable as an e-bike, has batteries with seldom more than 250 watt-hours and can travel about 50 kilometres on them. Sufficient for the city.
Joko Winterscheidt and Andy Weinzierl have interpreted this "less-is-more" principle quite consistently with their lightweight bikes from the Sushi brand. We had the opportunity to test ride the California Roll C 1 model for a few days.
Characteristics
The model is aimed at a relatively well-defined target group, namely a young urban audience, sporty, design-conscious and hip. The Shushi bike demands certain qualities from this clientele, because to call the model comfortable would be simply wrong. In fact, it is hard as a rock; neither the thin tyres nor the fork, made of steel but without a damping pre-bend, nor a suspension seatpost help to soften shocks. And the aluminium frame also offers virtually no elasticity. However, the manufacturer consciously accepts a loss of comfort in order to offer a distinctly design-oriented and clean product that, in a certain sense, bundles the zeitgeist on two wheels. Faux leather applications on the grips and saddle are visual highlights and the "not a gram too much" programme is also reflected in the frame design. At most, the practical and stable luggage rack mounted here is a concession to everyday practice, in which it is sometimes not enough to carry one's belongings in a fashionably correct way with a backpack on the back. Winterscheidt & Co have gone one better in that they have dispensed with gears – also in keeping with the trend. All this allows them to sell the bike to cost-conscious young people for just one thousand euros.
Components
There is just as much as necessary, but everything you need is there. Mechanical disc brakes are also sufficient, especially in view of the low weight of just sixteen kilograms. It is also worth mentioning that despite the radical slimming, there is a small display, even if the display is not always visible in sunlight.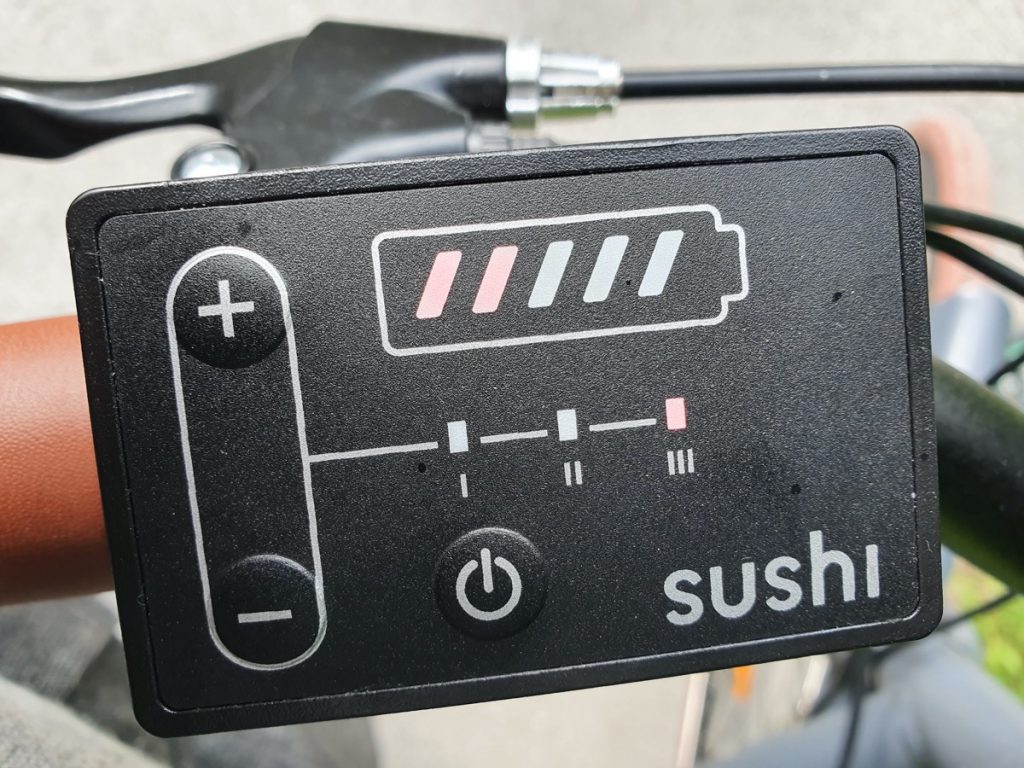 Plus point: the sturdy rear luggage rack, on which panniers can be hung without any problems and which, commendably, has hanging eyelets on both sides, so that many a load can also be safely stored on the surface.
The fact that the kickstand mount is quite old-fashioned at the bottom bracket is not ideal, but given the low weight, it is not annoying. Especially since the permissible total weight of 110 kilograms limits the payload anyway. Child seats and the like can be attached without any problems if the load limit is observed. The slim mudguards and wide, non-slip pedals contribute to the bike's suitability for city use.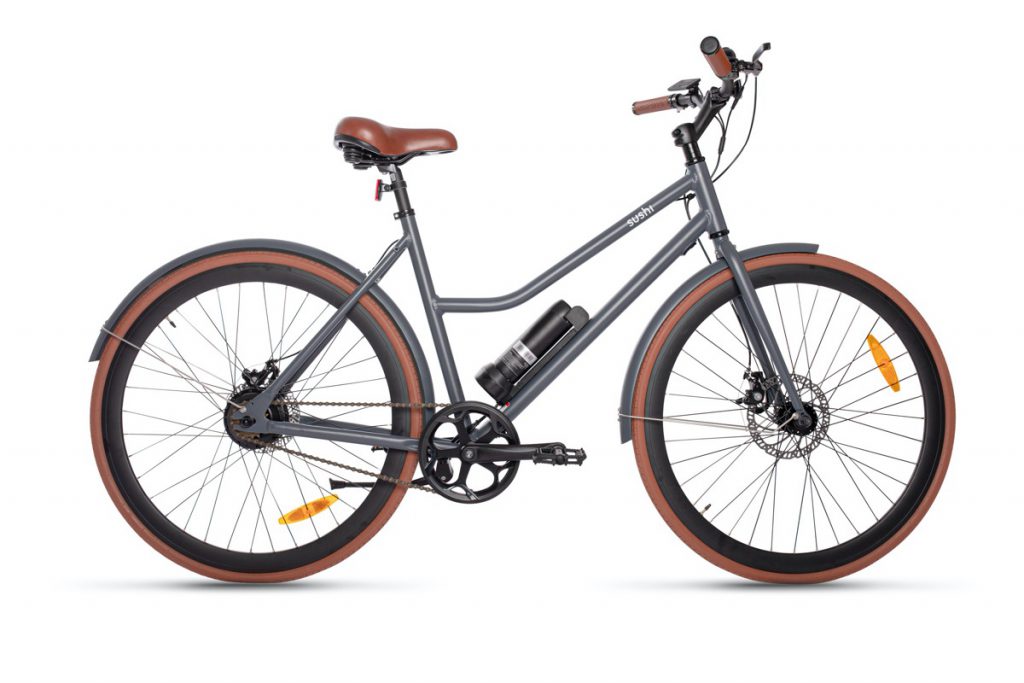 Driving
The bike is a little difficult to get going. This is due to the PAS system, which only knows one signal – pedal is rotating or stationary. With its system-related reaction inertia, it is a bit of a spoilsport here, in combination with the lack of gears.
"Politically", however, this is correct, because "getting out of the saddle" when starting off is now part of the good tone. Once rolling, enjoyment is definitely the order of the day, as long as there are no real inclines in the way. The gear ratio (46 to 38 teeth) is designed in such a way that at just under 25 km/h, a cadence of approx. 80 crank revolutions is applied. A good design – lightness determines the feeling throughout.
Of the three support levels, the highest will probably be chosen most of the time; here alone, the power injection is really fun. The 24-volt system and the tiny motor with only 200 watts (nominal power) keep the costs low. The latter enables quite respectable ranges of 40 to a good 50 km, without one being able to complain about a measly assistance.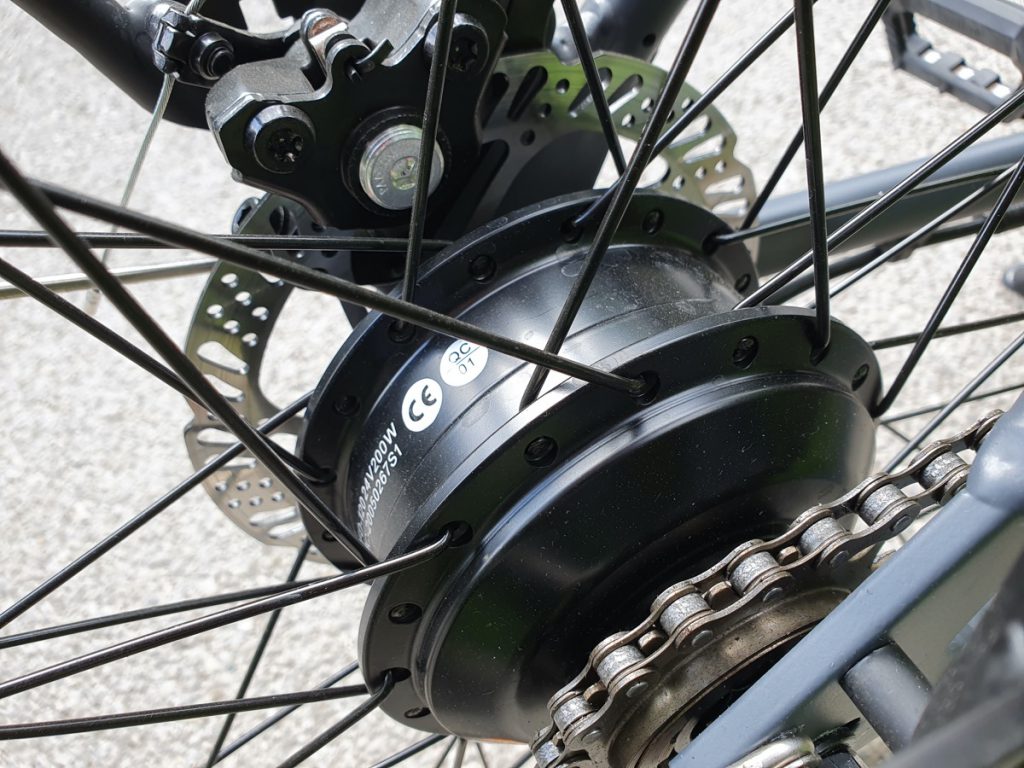 The hit is the 800 g light battery, which also has a USB charging socket and costs only 199 euros as a second or replacement battery. So if you're a really tough guy, you can then also cover more than 100 kilometres per ride for a small extra charge.
Sure, slightly wider tyres would be desirable for comfort reasons, as well as a suspension fork and derailleur. Here, a configuration option would be called for. But the Sushi concept has also considered this. Standard dimensions and mounts allow easy upscaling to wider tyres, more comfortable saddle or seatpost. Almost everything is even available in the Sushi accessory shop. Only other tyres and ergonomic handlebar grips as well as a suspension fork would have to be purchased elsewhere, but these could also be fitted without any problems.
Distribution
Sushi Bikes are available at about two dozen dealers in Germany, where the bikes can also be test ridden. Otherwise, the bike comes by delivery service with an additional 49 euros in shipping costs, which are waived for an order value of 1,100 euros or more. In addition to the California, there is also the Maki model, with a men's frame and at the same price, but without the "compromise equipment" (kickstand, mudguards, rear rack, light).
Conclusion
The Sushi e-bike is precisely designed for a modern, urban clientele. It meets the needs of this target group very well. But the designers have also very sensitively sensed where the limits lie and integrated mudguards and luggage racks. If you want to be even "hipper", you can strip the bike and, as a "dedicated follower of fashion", enjoy a bike that weighs just over ten kilos – or go back to the Maki.
Of course, with a bike that only costs as much as some DIY goods, you have to make concessions, for example in the components, but we didn't notice this unpleasantly on the few hundred kilometres of "test ride".
Text: Werner Köstle
Pictures: Peter Grett, Sushi Bikes