Formerly a PET bottle, today a chic accessory and travel companion – with their start-up GOT-BAG, founder Benjamin Mandos and his employees have implemented an idea that combines sustainability and profitability. The plastic that Indonesian fishermen retrieve from the sea is turned into backpacks that are practical, ecological and stylish.
A good two months ago, a video from Greenpeace UK caused a furore on social media. The British Prime Minister stands in front of No. 10 Downing Street and gives a speech. His blah-blah is smothered by a tsunami of plastic waste that washes him and the photographers away and pours through the streets of Westminster (#Wasteminster). Finally, the mountain of rubbish comes to a halt with Johnson the doll in front of children with worried looks. The clip ends with the overlay: "This is the mountain of plastic waste that Britain ships to other countries every day. Rubbish that is supposedly being recycled is being burned abroad." The problem of plastic has rarely been staged so spectacularly and succinctly.
There is hardly anyone who is not aware of the problem of plastic waste, even if it is only that he or she has to do without the plastic straw in the cocktail. Especially since the legislator has also taken action in the meantime. Since 3 July, many single-use plastic products have been banned throughout the EU. But since retailers are still allowed to sell existing products, it will actually be a while before the drink in the bar is served without a plastic straw.
A start-up company that has been committed to combating the littering of the oceans with plastic for a little longer is GOT-BAG from Mainz. To be more precise, it was in 2016 that two friends decided to put an idea into practice, the end result of which is a fashionable product that no longer shows that it was originally a discarded PET bottle.
From sailor and surfer to do-gooder
In 2018, the idea to recycle plastic bottles from the sea and make stylish backpacks out of them was finally put into practice and GOT-BAG was founded. Two years later, the start-up company is already proving that implementing a sustainable idea can be profitable. GOT-BAG is "bootstrapped", as the jargon goes. This means that it has managed to set up a company that operates profitably entirely on its own – without outside financial investors. In 2020, around 30,000 items were sold – including not only backpacks and daypacks but also toiletry bags, laptop bags, accessories and merchandise products.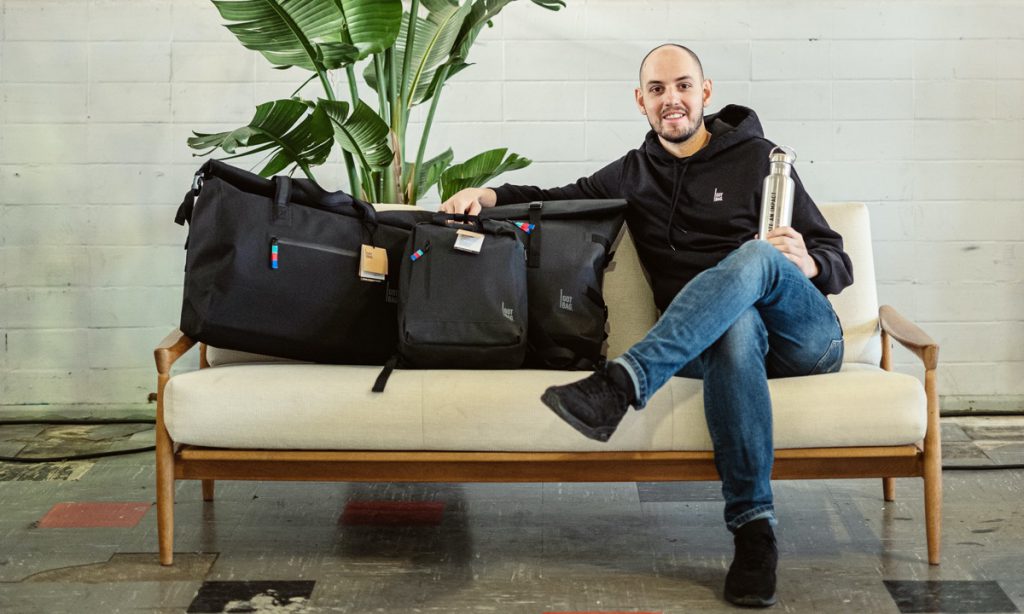 Of the two friends, only Benjamin Mandos now works in the company. But the original idea is based on the special relationship to the sea that both shared since childhood and youth. Benny went sailing with his father, Roman was a surfer. They both shared a passion for preserving this special habitat and doing something about the increasing pollution. In a campaign video from 2019, they explain their motivations and how their idea came about. The most impressive and simplest sentence of the three-minute video: "We eat plastic".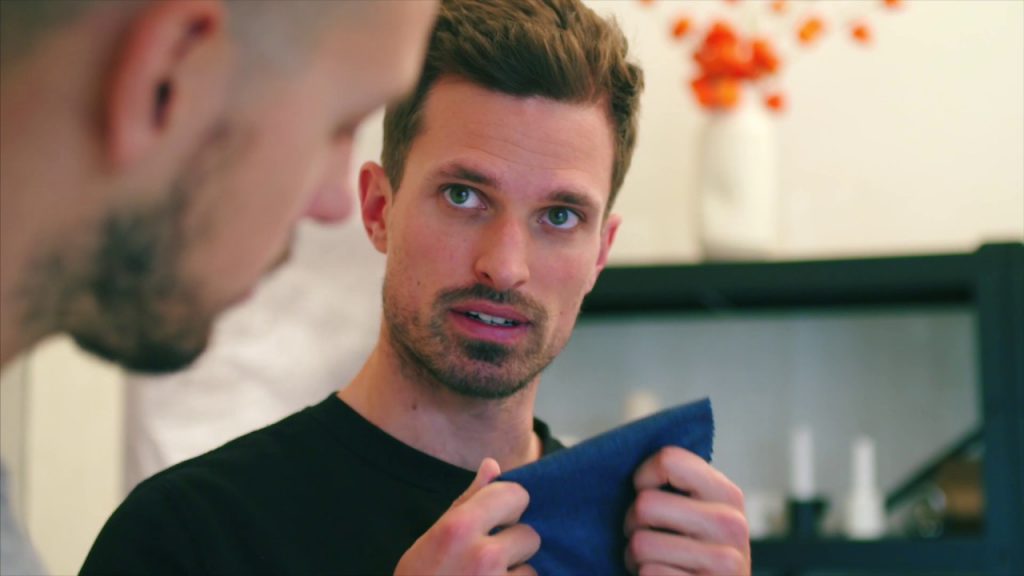 Many of us who like to eat fish must be aware that what is washed into the sea ultimately ends up back on our plates and finally in our stomachs. Because the plastics that are so carelessly disposed of in the sea have a long "lifespan". Even after 400 years, plastic products have not completely decomposed and are ingested by fish and marine animals.
Thanks to the initiative of GOT-BAG, there is now a network of 2000 Indonesian fishermen who go plastic waste fishing off the coast of Java instead of fishing. Financially, this occupation is now more lucrative for them than traditional fishing. The fishermen are paid per kilogram of plastic. GOT-BAG is in close contact with the local contact persons. An employee is often on site to manage the clean-up programme.
How marine plastic becomes a fashionable backpack
Not every plastic that the Indonesian fishermen collect is suitable for making the backpacks. Nevertheless, the valuable pet bottles are only sorted out on land. They are laboriously cleaned and first processed into flakes, then into pellets. In Quanzhou, China, the pellets are turned into robust yarn, which is then used to make the backpacks and laptop bags. An environmentally friendly polyether coating then makes the bags water-repellent.

What happens to the remaining plastic?
According to press spokesperson Martin Steinbach, only about ten to 15 percent of the collected plastic goes into GOT-BAG production. In the meantime, there is a cooperation with two other partners – CleanHub and Indocement. This ensures that the rest is also processed using innovative methods. Indocement, based in Jacarta – a subsidiary of HeidelbergCement – uses non-recyclable plastic to generate heat. CleanHub, a Berlin-based start-up, takes care of the safe disposal of plastics and composites that cannot be regularly recycled. Through their platform, companies can become plastic-neutral, i.e. acquire a certificate that helps projects like GOT-BAG's Clean-Up Programme to salvage plastic from the environment.
Colourful, chic, eco
About 3.5 kilograms of this ocean plastic are in a finished GOT bag backpack, and 2.5 kilograms are in the daypack for 89 euros. And with the backpacks, the businesswoman, the hipster, the student and the CEO can be seen. The first and simple model is still the most popular: the Rolltop Backpack in black for 149 euros. Thanks to the roll top, the size can be adjusted and the timeless design make it a companion for the road and travel in all situations. It is also available in pastel colours – simply chic. Currently, the online shop is closed due to the Corona crisis and supply shortages. But as soon as it reopens, you can order the roll-top backpack made of marine plastic in the colours Sand, Algae, Reef and Ocean.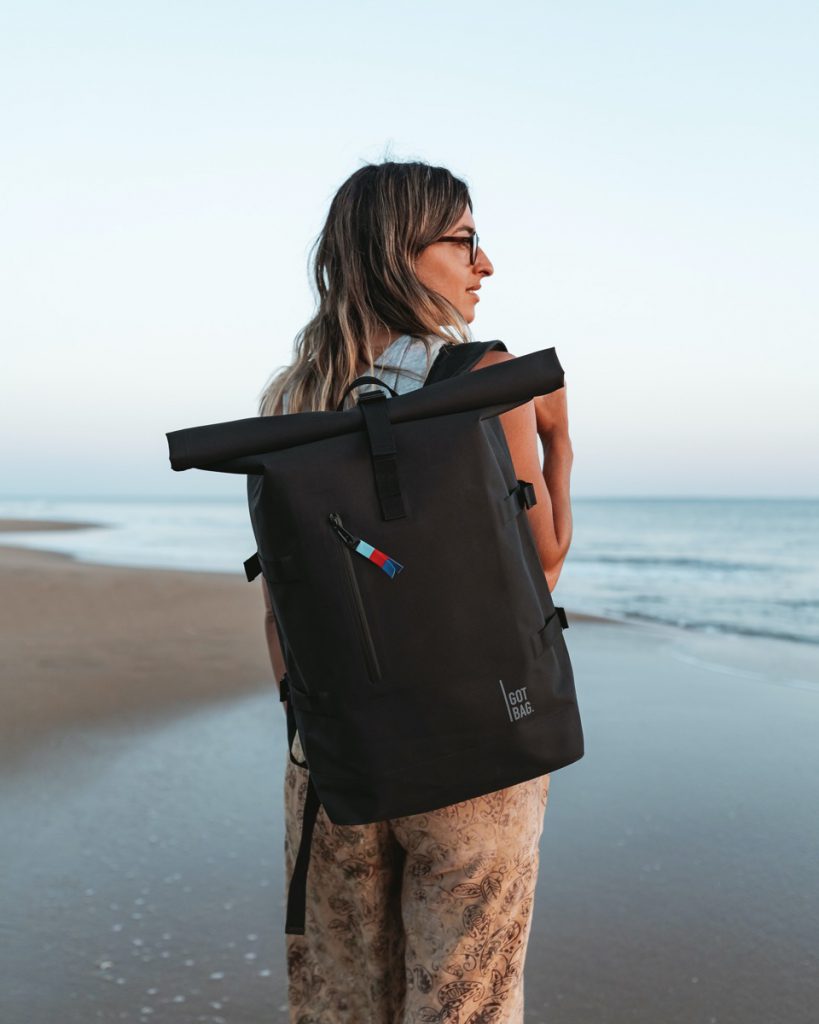 Retailers that have included GOT-BAG products in their range include Kauf Dich glücklich, Glore in Nuremberg. Saltwater Shop (Hamburg, Heiligenhafen, Travemünde, Sylt), Backyard (Hamburg, Münster) and peoples Place (Mainz, Wiesbaden). Retailers in the Netherlands and the UK also sell GOT-BAG bags and accessories, for example Carl Denig and The Good Gift Store in Holland, and "Surfboards UK" in the UK. Interested parties can find shops via the company's own store finder: https://got-bag.com/pages/store-locator
The backpacks have none of the alternative touches that are still associated with the early days of the eco-movement. The Rolltop and NoRolltop are real eye-catchers and also very practical. Influencers agree, and if you search for GOT-BAG on YouTube, you'll find a video by Angela Sealana, among others, who takes a close look at the backpack and thoroughly recommends it.
In the USA, too, the coasts are now becoming cleaner
The young company is also expanding beyond Europe's borders. Since August 2019, GOT BAG has been active in the USA; four employees are currently working in Portland/Oregon. In cooperation with other brands, a clean-up event was recently organised on the West Coast. Previously, the beaches of Hawaii were cleaned of the legacies of our consumer society in cooperation with Sustainable Coastlines Hawaii.
These actions may be a drop in the ocean, but the initiatives are more than a symbolic sign. With its commitment to design the entire production and supply chain of its backpacks according to sustainable criteria, the Mainz-based start-up is a role model not only for companies in the fashion industry, where a lot is still in a mess.
Text: Susanne Frank
Pictures: GOT BAG