Who, if not Hercules, is called upon to reinterpret the mobility style of the 70s and 80s in a new and contemporary electric way? And the manufacturer does this as sensitively as it does confidently. Round headlights, "high handlebars", steering lock on the steering tube, partially chromed "tank" and the seat struts in the style of suspension struts – these are the artful throwbacks to this era. In addition, a "tank battery", double-bridge fork and the flat luggage rack bridge, all of which exude a certain "teenage charm", or to be more precise, the charm of a Hercules Prima or Prima S. Visually, only the overly fat wheels stand out somewhat; at that time, there were thin 16-inch tyres with snow-white cast wheels. And of course the engine, where you sniff in vain for the blue haze of the two-stroke petrol-oil mixture and listen wistfully or with relief to the tin can sound of the non-existent exhaust system.
The long-established company, which is now part of the ZEG Group, unveiled the unusual concept and its technical specifications at the Eurobike trade fair in Frankfurt.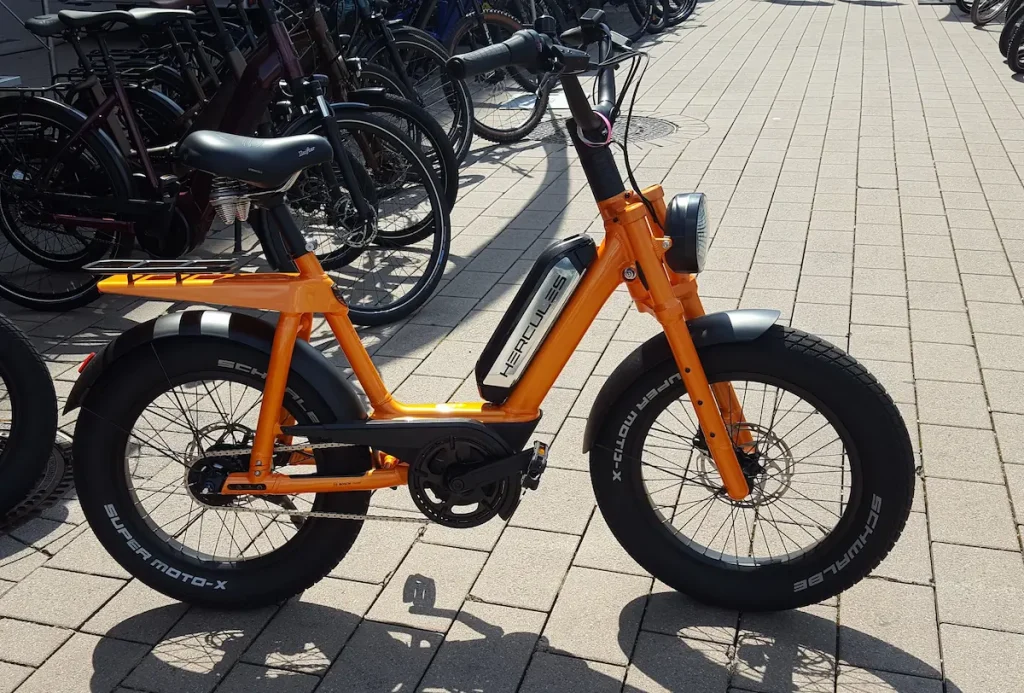 The technical equipment of the pedelec is of a high standard with the Bosch Performance Line System Gen. 3 with 75 Nm torque, 250 watts nominal power and a battery capacity of 545 Wh, 5-speed gears and hydraulic disc brakes. An aluminium frame with a load capacity of 150 kg and Schwalbe Moto-X Fatties complete the picture, as does the price, of course, which is said to be 4,399 EURO.
Thanks to the harmonious and unique appearance, it seems very likely that the concept will appeal to more than just nostalgics who are getting on in years. There is no information about the model on the Hercules website as yet.
Text: Werner Köstle
Images: Lead story: Hercules; Text image: Autor