The 18th issue of the high-quality environmental, nature and species conservation magazine "Moon Mountains – The World and Us" once again features fascinating, opulently illustrated stories.
The cover story this time is dedicated to the orangutans, to which author and photographer Michael Herzog made the long journey to Southeast Asia. The last of their kind now live only on Sumatra and Borneo.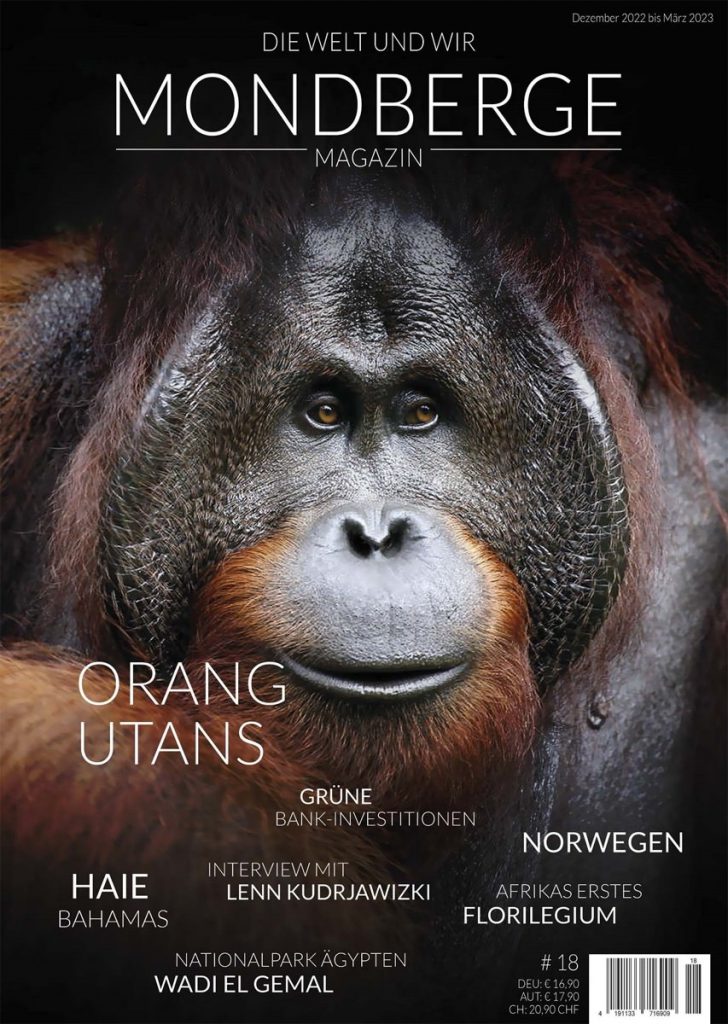 For Herzog, a long-cherished dream has come true with the visit of the "forest people". He visited the Semenggoh Wildlife Centre several times and came back not only with emotional experiences, but also with impressive pictures.
Other nature stories describe, among other things, diving adventures with sharks in the waters off the Bahamas, the intoxication of colours along Norwegian fjords and species conservation projects for wild animal herds in Germany.
There is also an exciting interview with a well-known personality, this time with the actor and musician Lenn Kudrjawitzki, known to many as the TV commissioner in the Croatia crime thriller, but also from international film productions with Kevin Costner, among others. 
In the interview, he talks about his commitment to climate protection, for example with the sustainable "Berlin Show Orchestra", which he co-founded, and his social project in Croatia. On his way to filming in Split, which he always does on an e-bike or in an electric car, the UNICEF ambassador collects money for his children's aid project. We have already had the pleasure of meeting Lenn. You can find our "Stromern mit…" interview here: https://www.touremo.de/en/stromern-with-lenn-kudrjawizki
Text: Peter Grett
Images: Mondberge Magazin